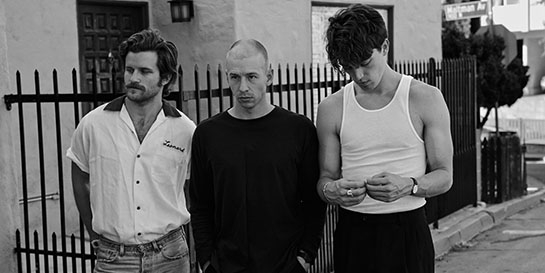 For fans of: The 1975, The Japanese House, Oh Wonder
The buzz: "Heard of LANY? Well listen up, because they're about to become your new favourite band" Teen Vogue
Must hear: ILYSB
What started off as a casual jam session for LANY, quickly turned into a tornado of fans, supporters and industry bosses wanting to get a piece of the band.
LANY uploaded their first two tracks onto Soundcloud despite having no followers. Less than a year later they had thousands of followers, and record labels banging on their door. They entered 2016 signed to Polydor, with over 16,000 followers and have received over four million plays, a number that continues to grow.
The trio, made up of Paul Klein, Les Priest and Jake Goss, came together all with different musical influences and sounds. "We really appreciate that about each other," says lead singer Paul. "We allow those to come together and create our sound." A dreamy pop married with R&B and a touch of indie has become their signature sound, with their soothing, synth-infused tracks making them stand out from the rest.
Last year the band spent a lot of time on the road playing 75 shows throughout the year. They have toured with the likes of Halsey, X Ambassadors, Twin Shadow, Tove Styrke and Zella Day. They haven't had a shortage of festival performances either, performing at Lollapalooza, SXSW and Sloss festival. They have also gathered some celebrity fans, receiving praise from Sam Smith, Ashley Benson and Zane Lowe.
Their first EP I Loved You reached the top 15 on the iTunes Pop album chart and it made it onto the Billboard Heatseekers chart. Their sophomore EP was a successful follow-up, reaching number one on Hype Machine, and receiving support from Zane Lowe on Beats 1, with the lead single 'ILYSB' reaching over six million streams on Spotify. They most recently released their third EP kinda in June this year as well as their first ever music video for Where The Hell Are My Friends.
This year saw the band come to visit London as they supported Ellie Goulding on her UK tour in March while back in the US, they toured with Troye Sivan. Being billed on several festival line-ups across America, and at Reading and Leeds in the summer, the band are now embarking on a European and North America tour. They continue to be supported by online blogs and social media, leading to conglomerates across America adding them to their in-store playlists – their tally is now 13,000 stores. LANY's ever-growing fanbase is only going to get even bigger in 2016.