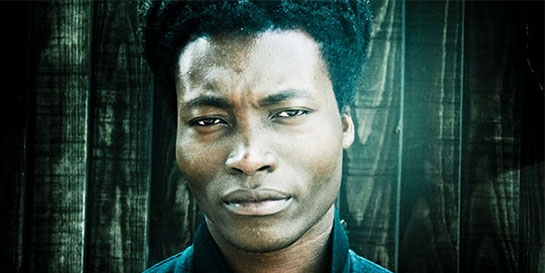 For fans of: Nina Simone, Gregory Porter, Jamie Cullum
The buzz: "Clementine's voice is a force to be reckoned with – throaty, powerful, and theatrical to the point of histrionic." – The Quietus
Must hear: Winston Churchill's Boy
Benjamin Clementine has come a long way from the 19-year-old busking on the streets of Paris.
Since the release of debut album At Least For Now in January this year, Clementine has made huge strides in his musical career, winning a prestigious Victoires de la Musique (the French equivalent of the Grammys) and receiving praise from the likes of David Byrne, Björk and Paul McCartney, who made Clementine promise to keep making music.
Now 26, his unabashedly personal lyrics draw on his younger struggles (he was bullied at school for being "feminine" and moved to Paris as a homeless 19-year-old after a nasty fall-out with his family) and his love of poetry – his literary influences include William Blake, TS Eliot and Carol Ann Duffy.
After surviving homelessness, poverty and years of busking to get noticed, Clementine has come to appreciate life's golden rule - "treat others the way you want to be treated. Remember your days are full in number."
He says his tough upbringing has given him an immense personal strength, which comes through in his raw, autobiographical songwriting. Of his lyrics, he says "I'm actually doing what I like doing, which is mixing opera music and classical music with soul and folk, and I was writing and talking about what I've actually experienced and I don't think that's very common." (The Independent)
Critics have compared his soul style to Nina Simone and his passionate delivery to Edith Piaf but Clementine is not classically trained and cannot read music. His expressionist, barefoot performances have enthralled audiences since appearing whilst still unsigned on Jools Holland in late 2013, with his sparse production and soulful vocals receiving admiration from The Guardian, The Telegraph and The Quietus.
Clementine's jam-packed summer will include performances in France, Spain, the Netherlands, Belgium, and at a host of festivals including Somersault and Wilderness. The new run follows previous sell-out shows at London's Emmanuel Centre, Purcell Room and Koko.
Virgin EMI's Gilbert Johnson says, "Benjamin Clementine is unlike any other act on the scene right now. His unprecedented success in France has been a great launch pad for us to introduce him to the UK."