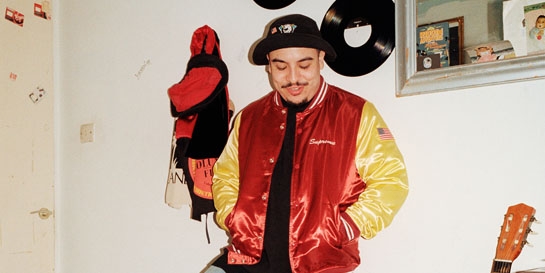 For fans of: George the Poet, JP Cooper, Juce
The buzz: "His music and a warm sunset will help your forget any sticky situation you might be in." – Some Kind of Music Blog
Must hear: Where I'm From
Jamaican music and sound system culture have long provided a deeply held fascination for successive generations of young Londoners. So, like so many other kids growing up in West London, it's no surprise the half Panamanian, half Italian Kiko Bun grew up obsessed with reggae and hip hop, immersing himself quickly into London's ever-thriving subculture of musicians, MCs, DJs, shops bursting with revival Studio One 7"s and the all-important sound system mixtapes imported straight from JA.
A rocksteady-sampling, instantly memorable summer boombox anthem, Kiko's debut release Sticky Situation sparked an extraordinary level of online interest, swiftly resulting in Kiko's signing to a very natural home at Island Records last year.
His first release with Island, Where I'm From, mixes his deep love of Jamaican roots music with crisp young London bass culture to create a heavyweight soundboy killer perfectly suited to rock anywhere from Bestival to any self-respecting blues dance.
Kiko's first headline show at Brixton's Hootananny aptly fell on 420 (April 20 – a hallowed date in the smoker's calendar) and saw the venue packed to the rafters. Last year he performed at Island Life's takeover of the Somerset House ice skating rink.
On the stage is where Kiko shines and he has a huge summer of dates lined up, including Leeds and Reading, Lovebox, Bestival and a grand return home West on the August bank holiday to Notting Hill Carnival.
Island's Guillermo Ramos says, "Kiko has it all: the songs, the charisma, and most importantly – the voice. He has kept things completely authentic, quietly but diligently doing his thing until now, and we are excited to help him step things up. As debut singles go, things don't get much better than Where I'm From… it's got the crunchy bass sounds reminiscent of the boom bap 90s era which he so loves, but the sensitivities of the roots which he grew up on. We see his massive potential – and feel that he will quickly transcend the genre.