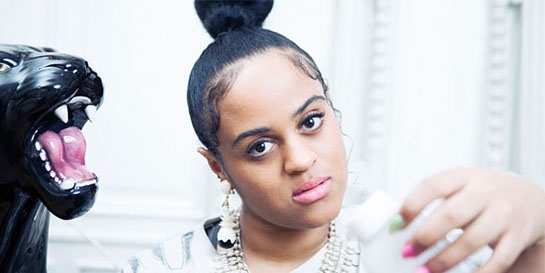 For fans of: Alicia Keys, Erykah Badu, Cee Lo Green
The buzz: "Listening to her music is like hearing contemporary pop music skip a notch and jump straight up to the next level. As a singer and live performer she has few rivals in the world in 2014." – Great Escape Festival
Must hear: Younger
Wise beyond her 24 years, Seinabo Sey has had a meteoric rise to fame since being signed by Virgin EMI last year - debut single Younger proved especially popular in her home country of Sweden where the single became the most streamed track on Spotify, and has since been streamed over 17 million times worldwide.
Sey's popularity online has seen her repeatedly feature as a one-to-watch on numerous music lists and blogs, especially in her ever-supportive native Sweden - she's now had an incredible five Hype Machine number ones.
She's also been labelled as one to watch by The Independent and The Guardian, as well as countless features in Swedish press. It was recently announced that 2015 will see Sey feature alongside fellow Swedish musicians Robyn and Avicii on a series of postage stamps to honour Sweden's musical talent.
Sey left Sweden for Gambia, aged three, where her late father, Mawdo Sey, was a well-known musician and former member of Ifang Bondi, one of the first bands to combine pop and African roots music. "He didn't really teach me things per se but I was in that musical environment the whole time," she says. Her music has been inspired by her dual identity, and she says that her school days shaped her future sound.
Sey has spent the last few months playing shows across Europe, her two sold out London shows attended by Frank Ocean. Other music fans include both Bastille and MNEK, both of whom recently tweeted about the songstress. Of performing live, Sey says "performing didn't feel comfortable until I was about 17. I loved to sing, but I always said I would never perform because I was too scared."
In the studio, Sey has been working with Brit and Grammy nominated production duo Disclosure and recording her own debut album in Stockholm with renowned producer Magnus Lidehäll, who has worked with Britney Spears and Katy Perry. Her debut album is due to be released later this year.