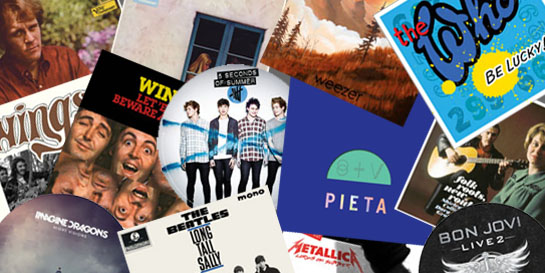 Universal Music UK is offering independent music retailers an early seasonal boost in the form of 12 exclusive vinyl releases to roll out onto their shelves from December 1st.
The "12 Days of Christmas" initiative includes gems from the Universal Music catalogue such as a heavyweight etched and numbered 7" of The Who's Be Lucky – never previously available on vinyl – and a limited release of The Beatles' Long Tall Sally which is back on 7" vinyl 50 years after it was first released. Also available on two separate dates in December will be two very special Paul McCartney releases in the form of the Wings 7"s – Letting Go and Let 'Em In.
Bringing the campaign bang up to date is a picture disc version of Imagine Dragons' multi-million selling debut album Night Vision and a 12" picture disc including an exclusive song from 5 Seconds of Summer. The promotion also includes a UK exclusive 7" from Weezer, a limited edition 12" from Metallica and two new songs from St Vincent pressed on a 10-inch disc in a die-cut, foil-embossed sleeve.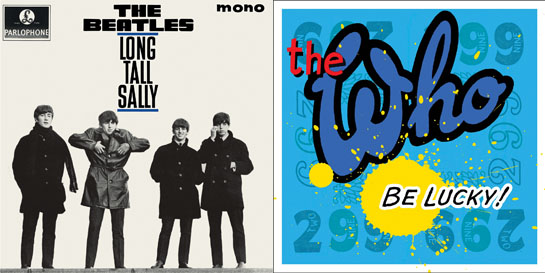 Around half the releases are being brought into the campaign via the US Black Friday promotion, but the rest are exclusive to the UK. Many are set to become instant collectors' items as all are available in limited quantities.
The full line-up is as follows:
Metallica, Lords of Summer 12" - December 1st
The Beatles, Long Tall Sally 7" - December 2nd
Tim Hardin, Tim Hardin 1 & 2 LPs - December 3rd
Wings, Let Em In/Beware My Love 7" - December 4th
Bon Jovi, Live 2 10" - December 5th
5 Seconds of Summer , Picture disc LP - December 6th
St. Vincent, Pieta/Sparrow 10" - December 8th
Weezer, Back to the Shack 7" - December 9th
Shirley Collins/Davy Graham, Folk Roots, New Roots LP - December 10th
Wings, Letting Go 7" - December 11th
Imagine Dragons, Night Vision picture disc LP - December 12th
The Who, Be Lucky 7" - December 13th
More than 120 independent High Street music shops across the country are expected to participate in the promotion, which comes at a time of strong sales for vinyl in the UK, which are up 56% so far this year.
Universal Music UK's commercial division MD Brian Rose says, "At a time of the year when many retailers are focussed on high volume Christmas releases we thought it was important to do something special for the indie stores who are important to us 52 weeks a year.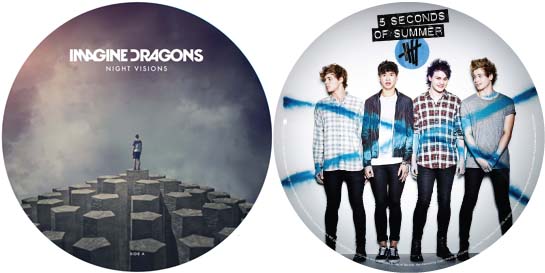 "We have an excellent set of independent music retailers in the UK and while we realise the High Street is a tough place to trade, particularly for independents, we are seeing some really encouraging signs this year.
"The range of releases we're including in this promotion reflects vinyl's appeal to all kinds of music fans. We hope the 12 Days Of Christmas promotion will provide a boost to specialist music shops on the High Street at what can be quiet time for them ahead of the Christmas rush."
Kim Bayley is Director General of the Entertainment Retailers Association which organises the annual Record Store Day celebration of indie record shops. She says, "Universal have delivered a fantastic line-up of vinyl gems for the 12 Days of Christmas. It's a welcome recognition of the pivotal role indie stores have played in the revival of vinyl and a reminder that these stores are not just there for Record Store Day but provide a year-round service to music fans."
To celebrate the 12 Days Of Christmas campaign, we'll be giving away each of the releases via our UmusicUK Twitter account. Each vinyl will be up for grabs from midday from the 1st through to the 13th. One lucky follower will get the chance to lay their hands on all of the releases on December 14th when we give away a complete set of the records. Click HERE to read the terms and conditions of the giveaway.
Keep an eye on @UmusicUK and #12DaysOfXmasVinyl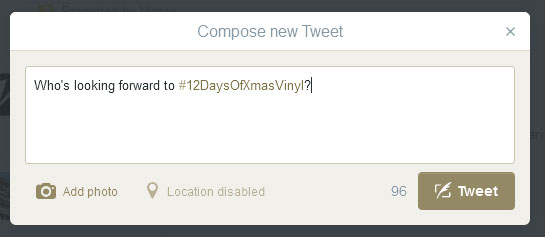 Keen to lay your hands on the vinyl treats? The following stores will be stocking the releases:
The Record Shop, Amersham / Head/Indulge, Belfast / Slipped Disc, Billericay / Ignite, Birmingham / Polar Bear, Birmingham / Wordfish, Birmingham / Moon Unit, Bishops Stortford / Head/Indulge, Blackburn / Music's Not Dead, Blexhill / Nevermind, Boston / Blast, Braintree / Resident, Brighton / Rise, Bristol / Head/Indulge, Bristol / Head/Indulge, Bromley / Upbeat, Bude / Electron, Burnley / Rock Box, Camberley / Retro Vibe, Cardiff / Spillers, Cardiff / Badlands, Cheltenham / Rise, Cheltenham / Tallbird, Chesterfield / Malcolm's Musicland, Chorley / Music Mania, Clacton / Music Zone, Cork / Lewkes, Downham Market / Tower Records (Wicklow Street), Dublin / Tower Records, Dublin / Freebird, Dublin / ST Records, Dudley / Pebbles, Eastbourne / Vinyl Frontier, Eastbourne / Mound Music, Edinburgh / Underground Solution, Edinburgh / 101 Collector's Records, Farnham / Raves From Graves, Frome / Love Music, Glasgow / Monorail, Glasgow / Record Corner, Godalming / Reflex, Gosport / People Independent Music, Guildford / Music Mania, Hanley / Vinyl Tap, Huddersfield / Fidelity, Ilfracombe / Grooves, Kirkwall / Seismic, Leamington Spa / Head/Indulge, Leamington Spa / Crash Records, Leeds / Jumbo Records, Leeds / Rockaboom, Leicester / Fives, Leigh-on-Sea / David's, Letchworth / Probe Records, Liverpool / Flashback (Shoreditch), London / Banquet (Kingston), London / Rough Trade West, London / Sister Ray (Soho), London / Rough Trade East (Brick Lane), London / Cool Discs, Londonderry / Off Beaton Track, Louth / Piccadilly Records, Manchester / Sound Knowledge, Marlborough / Vinyl On Deck, Mold / JG Windows, Newcastle / Reflex, Newcastle / Beatdown Records, Newcastle / Diverse, Newport / Phoenix Sounds, Newton Abbot / Spun Out Sounds, Northampton / Soundclash, Norwich / Music Exchange, Nottingham / Pendulum, Nottingham / Rough Trade, Nottingham / Truck Store, Oxford / Apollo Music, Paisley / Concorde, Perth / Action Records, Preston / Record Revival, Scarborough / Compact Disc, Sevenoaks / Record Collector, Sheffield / Watsons, Skegness / South, Southend-on-Sea / Pie and Vinyl, Southsea / Empire, St Albans / Kaleidoscope, St. Helens / The Vault, Stalbridge / Sound It Out, Stockton-on-Tees / Compact Music, Sudbury / Hot Rats, Sunderland / Derricks, Swansea / Red House Records, Swindon / Drift, Totnes / Head/Indulge, Warrington / Gatefield Sounds, Whitstable / Adrian's, Wickford / Square, Wimbourne / Rapture, Witney / Rise, Worcester