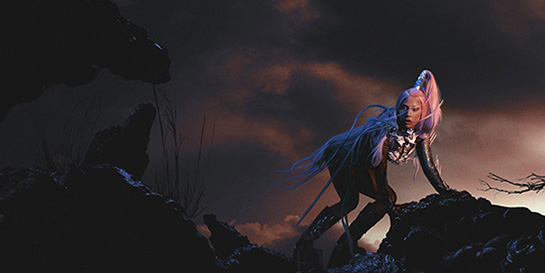 Polydor have left no stone unturned for today's release of Chromatica, Lady Gaga's highly-anticipated sixth studio album. The release comes as the global star secures her sixth UK number one single with her Ariana Grande collaboration, Rain On Me, which has also clocked up this year's highest number of day one global streams.
The label have been working closely with both the UK and global insights team to ensure the marketing for the album, which could become Gaga's fourth UK number one album, speaks to both core and new audiences in their natural consumption spaces.
As well as top tier playlist support across all streaming partners, the team have also rolled out a comprehensive online advertising plan on major platforms including Twitter, Facebook, Instagram, Snapchat, TikTok, YouTube, Google and Amazon. They have also secured various influencer activations including today's Sink The Pink album playback in conjunction with Gay Times as well as online advertising across key female, LGBTQ+ and entertainment sites.
Turning to TV, trailer spots went live this week with a heavyweight roll-out across all appropriate channels and core audience programming. The terrestrial spots have also been supplemented by complementary on-demand programming to hit catch up and box set binge viewers.
Meanwhile, radio advertising will be running all week across stations including Capital, Bauer and Heart which has served to simultaneously drive awareness of both Rain On Me and the album, with ads also running across relevant podcasts.
The team have also seen a strong D2C return with signed bundles proving particularly popular alongside an exclusive UK cassette, with demand set to grow even further following today's release.
Karen Dagg, senior marketing manager at Polydor, says, "There's never any need to reaffirm Lady Gaga's status as an iconic artist but with Chromatica she has really delivered a consistently exceptional album. The success of Stupid Love, which topped the UK airplay chart for five weeks, and now Rain On Me going straight to number one on the singles chart, really emphasises just how engaged both the fans and media have been in the exciting world of Chromatica."