As East London Arts & Music celebrates its first two years, principal Charlie Kennard talks about what's to come for the Universal Music-supported free academy.
East London Arts & Music (ELAM) has just passed a milestone with the graduation of its first cohort; another is approaching fast as it prepares to move into a purpose-built facility in Bromley-by-Bow for the start of the 2017 academic year.
Principal Charlie Kennard says the graduation day was not only a proud moment, but a significant one for everyone at ELAM: "What we're trying to do here is slightly different and innovative in terms of the pathway and expectations we set out for ourselves and our students.
"So, whilst things have been going really well for the two years since we started, there was nothing concrete, which meant it was so great to see these students complete their courses, get their qualifications and see where they're going next."
98% of ELAM's first intake completed their course and came away with a qualification. Half of them are now going on to university – 90% to study music either as performers or as a business.
"The other 50% is quite mixed", says Kennard. "A lot have gone straight into the music industry: we've got someone at Radio 1, someone at 1Xtra, someone at Three Six Zero Management, we've got people who have signed record deals and publishing deals and then there's a smaller bunch working their way up as musicians and performers independently and getting success through things like BBC Introducing – beginning their journeys as musicians, basically."
One recent graduate, Jessica Oghenegweke, says that during her time at ELAM she felt "completely supported in growing into the best version of myself that I can be" and puts it down to "all the staff and all the trainees reinforcing ELAM's five core values: drive, integrity, excellent, collaboration and innovation".
She is now ready to take those values into the workplace: "Through ELAM and getting the chance to talk to industry professionals who come to the college, I have been pushing my way into radio and I am so excited to be able to say that in September I am starting training with BBC Academy and Radio 1/1Xtra, learning the craft of radio production."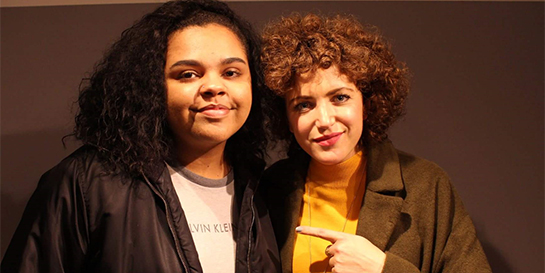 Kennard sees providing that practical and accessible link between college and career as a crucial part of ELAM's duty to its trainees, as it prefers to describe its students, especially in the current climate. "The industry is changing. Previously there was no set route, either into the business, into production or as a performer. Everyone high up in the business today has a different story as to how they got in. It might be along the lines of, I flyered outside this club, I met this guy, I started doing a bit of DJing and now I run Lovebox.
"Well that's terrific, and a great story, but we're trying to create a clearer pathway, especially for those people who maybe wouldn't get the opportunity to spend some time in a studio, unpaid, or who can't afford to go to clubs five nights a week and DJ for free for six months until they get their foot in the door. So it's vital not just to help students get their qualifications, but to get them started on the next step."
And even after that next step has been taken, Kennard expects this first ever group of ELAM graduates to stay connected to the college: "We're very keen on building a sort of ambassadorial alumni community. We have small cohorts intentionally so that we can create a community here and we want that community to continue beyond ELAM. They do two years here, but we hope they're signing up for life.
"Ultimately our model is based on working with the music industry, and that's where we hope they're going to make their careers, which means they'll be the people who come back and mentor our students, they'll be the people who come back and run projects and host work experience placements. Industry engagement is the golden thread that runs through everything we do, it's embedded in ELAM, so to help continue that via our own graduates makes perfect sense."
As a founding partner of ELAM, Universal Music has been pleased to work with the college in a variety of ways in its first two years including supplying mentors, workshops and two weeks' work experience for 40 trainees a year.
Isla Gillespie, a current trainee about to start her second year, certainly sees industry engagement as central to her ELAM experience: "Every week we have someone come in to give us a master class, and they could be someone like MistaJam from Radio 1, or someone behind the scenes at a label, or a manager. They help us link everything we're learning to the real world, and talk about how we can apply what we do here in a work environment.
"ELAM shows you that it's not all about being a performer. When I came here, I thought that's what I wanted, but the course has opened my eyes to other avenues and what I'd like now is to get an internship at a label – hopefully Universal!"
Next year's move to a new campus in the London borough of Tower Hamlets will increase opportunities for local young people, both in terms of the number of places and the breadth of courses, but it won't change ELAM's founding principles, as is made clear by its founding principal.
Kennard explains that whilst the new building will deliver improvements in facilities and equipment, it will also allow the introduction of a second strand of courses, focused on digital media. But, he insists, expansion will not mean dilution.
"We will only ever have cohorts of 75. In the new building that will mean a cohort of 75 for music, which is what we have now, and a cohort of 75 for digital media – film, TV and gaming. We had over 1,000 applications for 75 places this year, so we could quite conceivably have gone for 200 students and we would have got more funding etc. But for us 75 is a really important number, because 75 is a community.
"And when you have a community like that, they feel very invested in ELAM, like stakeholders, and that fosters a very special attitude. So when, for instance, a venue pulls out on us at the last minute so that we have to do a festival in the playground instead, the response isn't F-you, this place is rubbish, it's, right, let's roll our sleeves up and make this world class. And the number 75 is key to that."
The expansion will, however, change one thing, and that is the levels of collaboration that will be possible. It is already a fundamental ELAM goal to constantly mix genres and disciplines – "because that's how the most interesting things come about and how our students have the most fun". And with digital media courses running alongside the music curriculum, even more opportunities will arise.
"Across the two years, we have 150 very talented musicians creating content all the time. What we're not good at is capturing it and marketing it. But now we'll have 150 people focused on media who will take that content and do amazing things with it."