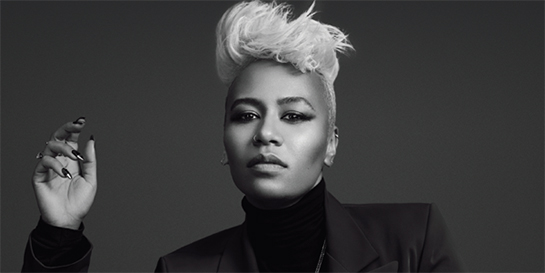 After a four-year break from the spotlight, Virgin EMI's phenomenally successful singer songwriter Emeli Sandé is back with her second album Long Live the Angels, the highly anticipated follow-up to her 2012 debut Our Version Of Events. Long Live The Angels serves as a mesmerising journey through the triumphs and tragedies of the last four years of Sandé's life.
The album was announced back in September alongside the release of anthemic single Hurts. The single received an overwhelming reception, being played 1390 times on radio in its first week – the highest number of plays ever for a launch single in the UK.
Emeli previewed new material from the album at a series of small, intimate shows in October at Glasgow, Aberdeen, Manchester and London last month. The shows sold out in only minutes, with dates quickly added for key cities in Europe including Paris.
Virgin EMI Senior marketing manager Fay Hoyte says, "Working with Emeli on the release of her second album has been amazing, and Virgin EMI is excited to share the music that she has been working hard on for so long. She's taken time out for herself, and as a result has made an album which tells a real and fascinating journey, and is sure to follow on from the critically acclaimed success that Our Version of Events received."
Our Version Of Events produced hits including Next To Me and Heaven, is seven times platinum and broke a record held by The Beatles' by staying in the Top 10 for 66 consecutive weeks. It spent 10 of those weeks at number one and became the best-selling album of 2012 as well as the second best-selling album of 2013.
Emeli Sandé recorded Long Live The Angels in New York, LA, Oxford and London, with producers and long-time friends Naughty Boy and Mac & Phil, who worked together on Our Version Of Events. The record is already receiving great reviews with the NY Times declaring, "she has delicacy, volume, graininess, melisma and sly, rhythmic nuances whenever she needs them. She inhabits her songs rather than overpowering them." The Independent has given the album four stars while The Telegraph went one further with five stars.
Emeli was recently in LA where she did a showcase at Capitol Records on October 26. The next day, she participated in a Facebook live Q&A, where she described the album as "raw emotion, deep and true" and compared it to diary entries capturing steps of her personal and spiritual growth.
After a stunning performance on X-Factor last week, and a performance on Jools Holland, Emeli will be performing at the BBC Music Awards. She will also be on TV screens in the US with a booking on Jimmy Fallon's show next week.