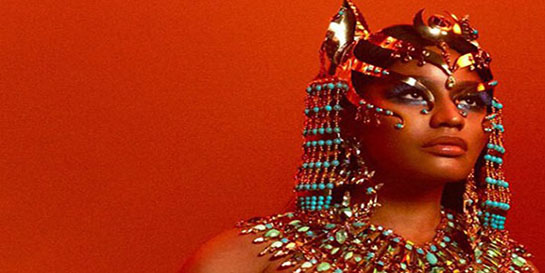 The release of Nicki Minaj's highly anticipated album Queen sent fans into an online frenzy on Friday.
The album - released by Island in the UK - was announced during the first episode of Minaj's 'Queen Radio' on Beats 1, and features Eminem alongside labelmates Ariana Grande and The Weeknd.
Island's campaign has centred on an exceptionally eye-catching creative showcased both outdoor and online, as well as on TV - the official video for the album's opening track Ganja Burns recreates the album cover art, featuring the rapper dressed like Cleopatra.
Island's Urban Division head of marketing Johnny Brocklehurst says, "On her first album in three and a half years, Nicki Minaj comes back swinging, striking a regal pose and successfully reclaiming her crown as 'queen.' When it comes to bar-for-bar skills, Nicki Minaj has proven she's the best female rapper of her generation. Marrying world-class visuals and creative, showcased again this week with the Mert and Marcus video, this is an exceptionally exciting campaign to be working out at Island, alongside our US counterparts at Cash Money and Republic."
The album has been well received by the UK press, with the Independent describing the release in its four star review as "the most important album of her career so far".
Minaj kicks her off her world tour next week and will head to the UK in March for shows in London, Birmingham, Manchester and Glasgow.