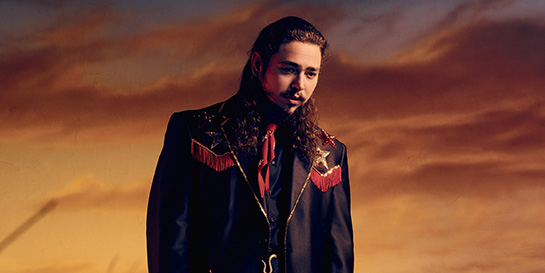 Post Malone's loyal community of UK fans have helped drive him to the top of the UK album charts this week with his sophomore album Beerbongs & Bentleys, released this week by Island.
The genre-defying maverick has also stormed the UK singles charts with three tracks from the album (the maximum number allowed by new chart rules) making the Top 20 today. On Post Malone's home turf in the US, where he is signed to Republic, Beerbongs & Bentleys went platinum in just four days and has smashed first day streaming records on Spotify with 79m global streams.
Island have focused much of their marketing online and rolled out an interactive "if you were Post Malone, what would your album name be?" feature alongside plastering outdoor billboards and posters across London.
Island marketing manager Ciara Hanley says, "His success has been astonishing and overwhelming, I feel that the speed at which he's created a loyal community of fans in the UK following the success of rockstar came out of nowhere. Post Malone is a real global streaming artist who shows the true power of streaming and, coming from a YouTube background, the power in DIY. The success now is truly rewarding and great to be a part of, I don't think anyone could have predicted this amount of support. Now with this album, I feel there's so much more to come, we're really looking forward to what the next few months have in store."
Beerbongs And Bentleys represents yet another creative breakthrough for the 22-year-old since the success of his 2016 Top 10 album Stoney.The track listing includes the four-week chart-topper rockstar as well as current Top 10 hit Psycho.
Island will be welcoming Post Malone to the UK for Wireless Festival on Friday July 6 and Reading and Leeds on Friday August 24.