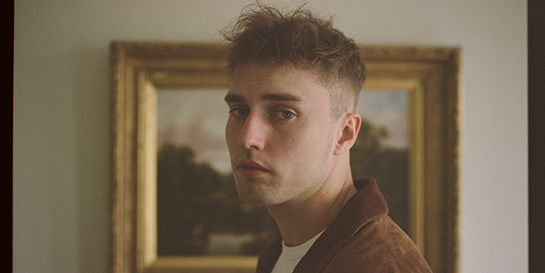 With a campaign focused on visuals and key press moments, Polydor have today released Sam Fender's second album, Seventeen Going Under.
The starting point for Polydor was to ensure they stayed true to the deeply personal nature of the record without losing the funny and self-deprecating side of Sam – especially when that's such a huge reason so many fans love him as much as they do.
Polydor's senior marketing manager Helen Fleming highlights another move that has gone down a storm with fans: "I'm going to argue Sam has brought back the B-side with this record!"
The label were confident in the brilliance of the album but wanted to give fans as much music as possible upfront so decided that each single came would come with its own B-side that doesn't live on the record itself. Polydor built this into the format offer, bundling the 12" album with an exclusive 7" featuring Seventeen Going Under and Howdon Aldi Death Queue as its "A" and "B"-sides.
Each of the key physical partners have also stocked exclusive colours and alternate artworks as has Sam's store. The colours are connected to guitars that Sam has had throughout his life while he personally spray painted and signed the DIY sleeve with the design done by long term collaborator Neal Fox who also did the picture disc. In one of the campaign's standout moments, Sam revealed on Tuesday a collaboration with visual artist David Shrigley to produce a limited vinyl cover which have sold like hot cakes.
The official videos, which have been a collaboration between Sam and Polydor creative director Semera Khan – have also been a huge hit. On Wednesday, Sam revealed the video for Spit Of You, starring This Is England actor Stephen Graham.
Press has played a key role in the campaign. Sam has already had features in the Guardian, a double page spread in The i and has adorned the covers of Dork and the first issue of Rolling Stone UK. The reviews are flooding in with 4* takes from The Telegraph, The Times, The Independent, NME, and a 5* from The Guardian who declared that the album "puts [Sam's] indie-rock peers in the shade".
On promo, the campaign launched in July with Sam joining Annie Mac to premiere the title track as one of the DJ's final Hottest Records. This was followed by Get You Down's launch as one of Clara Amfo's first Hottest Records, a stunning Jo Whiley session for Radio 2 and a trip to BBC Breakfast this morning.
Helen adds, "We're obviously hugely ambitious for this record coming off the back of a massive debut album campaign that saw Sam not only receive BRIT and Ivor Novello nominations, sell out over 135K tickets in the UK alone but also secure a number one album that was the second highest week one debut from a UK artist in 2019 and has since gone gold. The Hypersonic Missiles album campaign was one of the most thorough and creative formatting and D2C/sales jobs I've ever seen so we will definitely be aiming to emulate that throughout this campaign but also build on it and deliver formats that help Sam connect to his audience in new and exciting ways. The David Shrigley collaboration is the perfect example of this – coming about so naturally with Sam and David both being fans of each other."
Yesterday, Sam posted a hilarious video across socials announcing his UK wide tour in 2022 with gigs in Nottingham, Liverpool, Dublin, Glasgow and a headline show at London's Wembley arena.