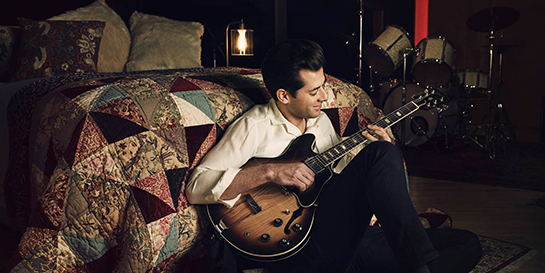 Innovation has been the watch word for the team at Abbey Road Studios this autumn, with many of them involved in helping start up music companies, creating an incredible VR experience, and even preparing to host a sleepover.
Building on a legacy of more than 80 years of ground-breaking technological advances, Abbey Road Red is an open innovation department designed to support the endeavours of the brightest music tech entrepreneurs, researchers and developers. The studio has just announced the next three start-up companies to take part in the unique music tech start-up incubation program which is the only one of its kind in Europe. The chosen three, Scored, Qrates and The Audio Hunt, come from different and exciting areas of music tech innovation.
Scored is a music library and film scoring app that allows creatives to control and shape music in real time to suit their productions. Qrates is a crowd funding site which uses pre-orders to fund the cost of producing vinyl and The Audio Hunt is a global marketplace which aims to connect music makers to rare equipment and services. These three start-ups will now take the place of OSSIC, CloudBounce and UberChord, who took part in the launch phase of the Abbey Road Red programme.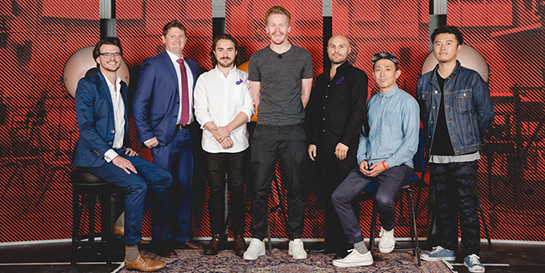 Another successful recent launch for Abbey Road has been its partnership with Google, Inside Abbey Road which has allowed the studio to virtually open its doors to the public by offering a 360-degree VR experience.
Earlier this month Inside Abbey Road went on tour, with Google working with agency Amplify to recreate the iconic Studio two at an experiential installation in London's King's Cross Station. Google Cardboard's virtual reality viewers and the app were also promoted and distributed through co-branded and designed distribution stands in regional stations and universities throughout the UK. Cardboard viewers were also available with copies of NME at pop-up distribution points outside live music events, shopping areas and social spaces.
Everyone who downloads the Inside Abbey Road app can go on tour guided by Giles Martin and Lauren Laverne inside Studio one and its control room where some of the most iconic film scores were produced, before making their way to Studio two where so much classic pop music has been created and Studio three where they can see the extraordinary mirrored drum room. The app is available on Google Play and Apple app store.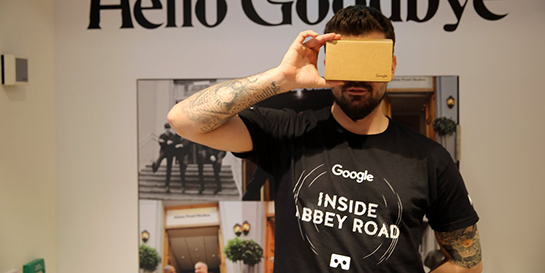 This weekend will see a unique sleepover hosted at Abbey Road which partnered with online room-letting site Airbnb to offer a lucky winner, plus extra three guests, a night's stay in the iconic studio three, where their night will be hosted by renowned chart topping DJ and producer Mark Ronson.
Abbey Road's senior partnership manager Rachel Haller says, "Up until now Yoko Ono has been the only one to have had a bed in any of our studios. Seeing how this campaign has warmly connected with audiences on a global scale and exceeded our expectations with PR just shows the relevance and appeal Abbey Road still has in the music landscape."
The competition winner and their guests will start their night in style with champagne upon arrival. They have a recording session with their host Mark Ronson and meet some of the staff at Abbey Road as they have an exclusive tour of the studios. They will have access to the Studio three lounge and control room, where they can listen to music and have the option to record a track with an engineer. In addition to all this, they will also be provided with dinner, snacks, and breakfast the morning after.