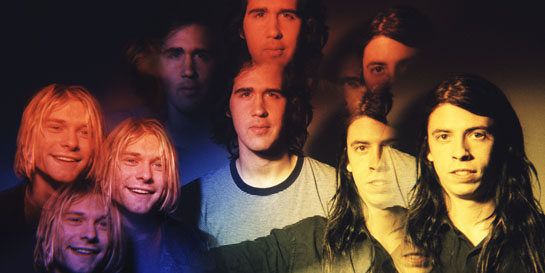 22/09/2011
Jim Chancellor - Fiction MD

Working the door of the infamous CBGB's for six months had introduced me to bands such as Soundgarden and Tad, bands that would pave the way for grunge, and ease me away from metal.
<< Part 1 - "Our stores were already getting asked about the band..."
<< Part 2 - "My chair fell apart from underneath me and I crashed to the floor..."
<< Part 3 - "I couldn't play guitar well then and I still cannot play the guitar well now..."
I read a review of Nevermind just after it came out and it was everything I had ever dreamt of. I left the house, ran down the North End Road to Our Price and bought the LP. I got home, sat down with a sandwich and put the record on the turntable. Halfway through side one I jumped up and ran into my friend's room screaming about how much he had to hear the record.
That afternoon we must have listened to it, start to finish, 15 times - It was mind blowing.
The record was swiftly recorded to a cassette – I was driving a white van as a courier at the time – and that was all I listened to for about six months.
After listening repeatedly to the 12 tracks, I managed to secure four tickets to see the band at Kilburn National (a venue I don't think even exists anymore). It was one of the first gigs that the touts had latched on to and set to make money out of. They bought one ticket and colour photocopied it over and over.
The venue was part floor standing with a raised balcony to sit on, usual capacity around 1,500. When we stepped through the doors the room was packed with what must have been more like 3,500 people. The queue for the toilet was at least an hour long.
Nirvana came on stage at 9 o'clock on the dot, played exactly 60minutes, destroyed everything on the stage; drums, cymbals, the works; and then left.
In '92 we braved the mud at Reading to see Kurt pushed out on stage in the wheelchair. I still have the ticket for the cancelled '94 show in Brixton.
I have one ritual every New Year's Eve and that's to play Smells Like Teen Spirit at midnight. Some times it's tricky if I'm at someone else's party but I always find a way, even if that means wrestling someone to the floor
Nirvana were the equivalent of the Sex Pistols for my generation and Nevermind was inspiring. Everything they did was anti-commercial and it was hard to have anything other than respect for them. Both band and album inspired me to be in music and helped lead me to where I am today.