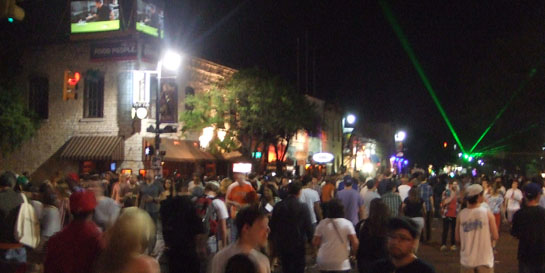 23/03/2012
Alex Close - A&R Manager, Fiction
Wednesday
Touch down.
Cab to my hotel.
Unfortunately little did I know there are three hotels of the same name in Austin and in error I've been put in the one which happens to be furthest from the action. In fact it feels like it's in a different state!
Straight from hotel into the thick of it.
The streets are packed like an indie Mardi Gras!
I can tell right away that it's busier than ever.
1000's of bands. Which are gonna be the winners this year?
Weather's hot n sticky, upper 70's. Not good for indie regulation skinny jeans.
Look out for the chaffing!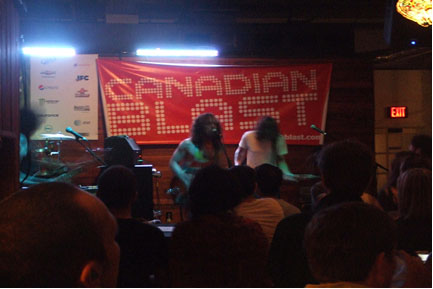 I hot foot it to Emo's for the first band. They kicks ass! Fresh faced garage punk rockers.
They bring the party alright but not sure they've got the legs yet to do any chart damage.
Then straight to Bar 96 half a mile away for first of many performances from Fiction's own 2:54, Fresh from a US album licensing deal with prestigious US label Fat Possum.
The band suffers from equipment failure halfway through but their intense and glossy Brit gloom win over a large crowd none the less. Tomorrow is another day and another two or three shows for them.
A couple of righteous Margaritas and a slice of pizza later and I'm back north to see UK acoustic songstress Daughter.
The best gig I've seen them play yet and the crowd are entranced. Drummer's getting busy trying to keep up a DnB beat behind ethereal vocals.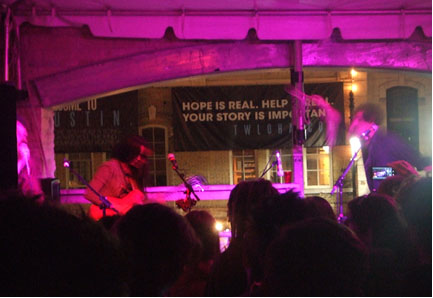 Queues are heaving at all venues by now.
Spring Break and free booze will do that.
Feels like aural metal warfare inflicted upon me from Emo's outside lot while I stand in line mid venue to get to another band playing across the road. Despite a bouncer's best efforts to stop any more entries, I squeeze through out into the back lot to see an all-girl power punk troupe. Much fun they are too!
Then it's back north to see 15mins from a gothic chanteuse before popping next door for some drone core disco. Sadly it feels like they hadn't prepared to leave their bedroom and they look as bored as the crowd.
The evening's topped off by a stomp south to catch Wavves come back show. And pretty damn good it is too! Sounding more like a US Graham Coxon.
Finally it's a game of hunt the cab around 3am to get me back to hotel in a different time zone ready to do it all again tomorrow.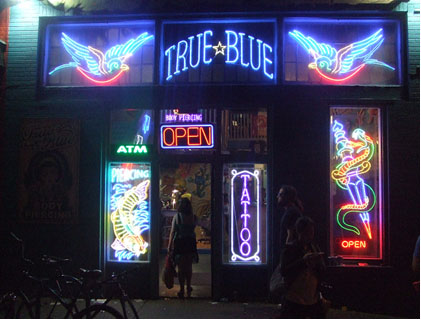 Thursday.
Breakfast meeting on 6th street at 10am makes sure I'm up and out early, plus a manager pow wow at 11am.
Then the gigs are calling.
Sun's out and I've made the rooky error of no sun cream.
My studio tan is taking a battering today.
Gotta run between four different gigs.
New Shapes day party always has a great line-up so I find myself back at that one quite a few times.
SXSW has become a brand bonanza.
It's definitely changed from an industry event say 10 years ago to just a massive free festival.
Kinda like Glastonbury in a city.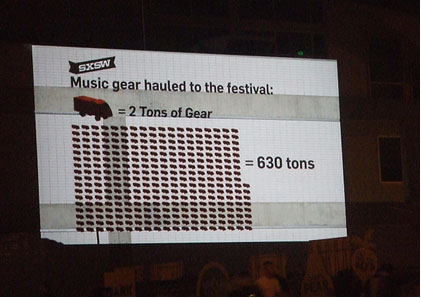 To subsidise all of the bands/stages and free food and drink you gotta put up with the brand names.
From crisps and cigarettes, energy drinks to breakfast biscuits! There are logos and handouts everywhere.
I guess no one's that bothered if it pays for the lunch but it doesn't sit well with me for some reason.
Free vodka and tacos at my next hangout just about make up for the average music though.
Before I know it the day's cooling and the evening bands are taking the stages.
More label showcases than ever this year, many of them excellent.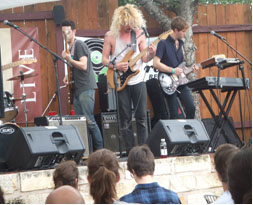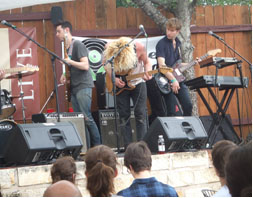 Barsuk, Carpark Records, Captured Tracks, Communion, Secretly Canadian, Merge, Saddle Creek, Third Man, Dim Mak, French Kiss etc, and plenty of agencies showing off their clients too - Windish, The Agency, Tone Deaf, Blackbird, Ground Control.
There are also a scattering of big name acts on the larger stages The Cult, Jesus & Mary Chain, Bruce Springsteen, Shins,
Sadly queues prevent entry to the mighty Jesus + Mary Chain. *sad face*
However the evening still ends well with a set from the incomparable Sharon Van Etten, joined for the encore by J Mascis. Sublime.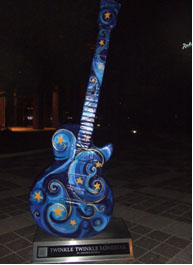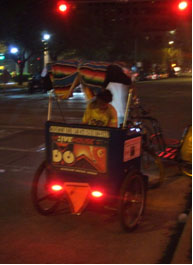 Friday
Another breakfast meeting followed by a frustrating day.
Mid morning ID misplacement leads to an hour of retracing steps around Austin but to no avail.
Annoyingly no ID = no gig entry, so I lose an hour heading back to my hotel to pick up an alternative ID.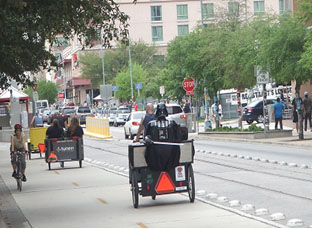 SXSW day parties are all about hitting the right rhythm.
If your rhythm is off you can spend the whole day trudging from venue to venue only to end up standing in queues outside.
There's nothing more irritating than being stuck outside a venue and hearing the band on stage but just can't see them cos it's already one in, one out.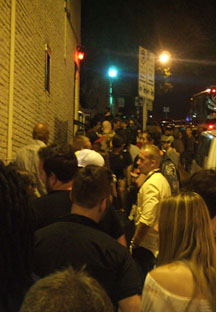 Another scorching hot day.
My shoes are smoking from pounding the pavement.
Definitely some highlights though – e.g. bumping into Jack White at dinner before his solo show on 6th street later that night.
The evening gets briefly derailed with the introduction of the SXSW cranberrita. Austin serves a large measure!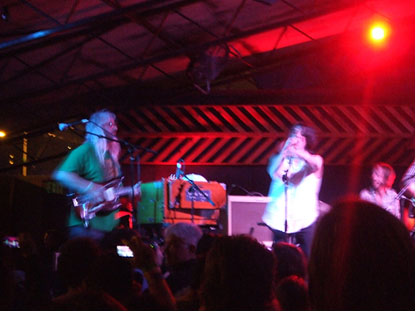 Back on track to the final shows zipping around on the peddle rickshaws before another 2am finish.
The after shows and parties go on till at least 4am but despite my best intentions jet lag takes its toll and I'm looking for a cab around 2am.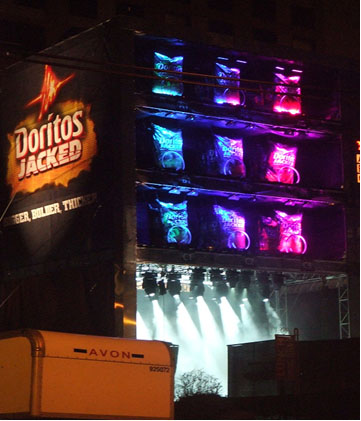 Saturday
The pace is starting to hit everyone.
Like the final day of a UK festival the casualties are everywhere.
We're all feeling a little fragile.
I start the day at the back lot of a clothes shop.
The poor band has to play to an audience of just labels and publishers.
Tough crowd!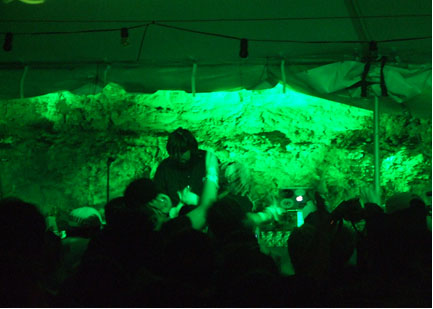 Then over the other side of Austin for Fader sponsored fort.
My taxi bike gets a blow out at high speed half way.
Next to cedar street courtyard for a couple of punts. Worth seeing but nothing to write home about.
Back to warehouse to watch one of the final 2:54s shows. This time they kill it!
Onward to the backyard of a rented house to see a band performing on the back porch. The audience happily chomping on barbequed crawfish.
I grab a bite and a frozen margarita and over to the Aussie BBQ for a couple of bands.
Chet Faker's sounding good but someone tell the soundman to turn up the vocals. He's battling hard against the audience gabbing.
After that is a short stroll up 6th street to Parish for another couple.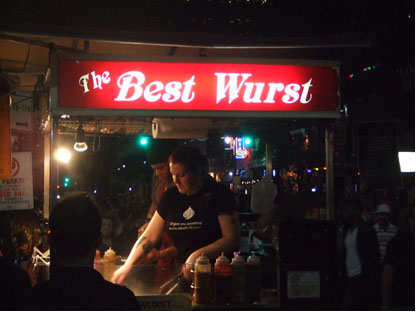 In the gloom and humidity I almost drop off with day four tiredness.
Back to Maggie Maes for final band before grabbing a cab back to hotel for a 3 hour kip before shipping out.
40 bands seen in 4 days.
A handful have lots of potential and I'll follow them up when I get back.
Someone said to me it's hard to know what you get out of SXSW till a few months afterwards and he's totally right.
Met some great people. Seen some awesome bands.
Hopefully Fiction will be able to help some find an audience outside N America.
Till next time Austin!