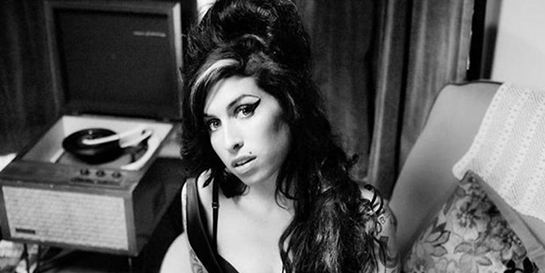 Island Records along with the Amy Winehouse Foundation have launched a global contest inviting fans to recreate tracks from the Back To Black to celebrate the 10 year anniversary of the classic album's release.
Over the course of this week Island Records have released original lyric videos for Back To Black, Rehab, Tears Dry and Just Friends on Amy's official Vevo channel. The videos provide a link to download instrumental backing tracks, offering fans the chance to reimagine their own version of the songs. To enter the competition, which closes on January 31st, fans must upload their own creations to YouTube, before sharing the video on Twitter with The Amy Winehouse Foundation using the hashtag #BacktoBlack10, or by filling in the form which can be found on the foundation's official website.
Back To Black producers and Amy Winehouse's long-time collaborators and friends Mark Ronson and Salaam Remi, who are now patrons of the foundation, will be picking a winner to record and film their performance in a studio before their professional video is premiered on Island's official YouTube channel.
Island and Vevo will be donating funds from the campaign to the Amy Winehouse Foundation, which was set up in Amy's name by her family after her tragic passing in 2011 to help vulnerable young people face issues such as homelessness, addiction, mental health and unemployment.
The foundation's latest project, Amy's Place, provides a recovery house for young women aged 18-30 who are overcoming drug and alcohol addiction. Opening in August 2016, it is one of very few women-only recovery housing projects in the UK, and has highlighted the need for a new approach to support female addicts.
Other vital projects set up by the foundation include The Amy Winehouse Resilience Programme, an alcohol awareness programme for secondary schools across the UK, and Amy's Yard, a 12-week AQA accredited programme to support and develop talented young people through music.