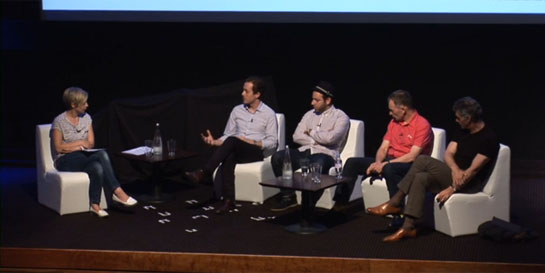 The marriage of creativity and business isn't always a match made in heaven so it was interesting to discover the BPI's recent AGM exploring how this relationship can be best made to work. The Amplifying Success forum felt especially relevant at a time when the point where creativity meets big business is being reshaped by the 24/7 digital world.
The session was made doubly engaging by the fact the BPI had managed to corral a bunch of high profile creatives who have met the commercial world head-on and come out the other side richer, wiser and, importantly, with valuable experience to pass on to today's young creatives.
Journalist and broadcaster Miranda Sawyer expertly chaired the panel that allowed Will Kennard and Saul Milton – aka Universal Music's Mercury-signed artists Chase & Status - author Tony Parsons and director and producer Stephen Garrett to steer a path through the digital world to explain how ideas can be turned into sales.
Getting noticed as a creative is the first step. Parsons said that leap can be the biggest one to make. However, he stressed that it only took one person or executive within a record company or book publisher to turn around and say 'I get it' for the creative to get a break.
The Mirror columnist said his best selling 1999 novel Man And Boy had been met with a "tsunami of indifference" by the publishing world when he tried to pitch it. Fortunately, after numerous rejections, one executive at HarperCollins recognised its potential. Parsons said, "You want someone to say they get it. Saying no is the easiest thing in the world and most people don't get it. Anyone doing something remotely creative will come up against the business world and you need that one person to say 'I get it'. As creative types it is impossible to do what we want to do unless there is that one person."
However, the gulf between artist and exec doesn't end when an artist gets his or her foot through the door. That is just the start. Kennard and Milton, who also run their own MTA Records label and, therefore, walk both sides of the street as businessmen and creatives, stressed that when dealing with artists there are no hard and fast rules. The key tenet is understanding; sometimes, they argued, a great idea could benefit from a lot of hand holding from the businessman. Alternatively, some creatives are perfectly capable of seeing through ideas themselves. It is the responsiblity of the businessman to recognise when he or she needs to step in or take a step back.
Kennard said, "Through our record label we have a mixed bunch of acts, some are very savvy and are very self sufficient and know where they want to be. They can produce music themselves, mix it, record it and are prolific on social media and understand how that works. Some (artists) are completely the opposite and very wet behind the ears. So those acts you have to hold their hands a little bit more and provide more encouragement."
Kennard and Milton also stressed the creative needs to be encouraged at every opportunity, but that support should also extend to telling them when a project has come to a logical end. Kennard added, "Most creative people are quite indecisive and self analytical and they're never sure what they are doing is any good. A strong important part of what we do is support them and say, 'it's working, it's finished now, move on'."
The Chase & Status duo were also able to shine some light on the sort of language artists want to hear. Milton was adamant that trust is crucial and singer/songwriters are not going to respond well to a lecture from the company about increasing sales in Asia. He said, "You don't write music with the intention that it will sell 300,000 copies and go platinum. The minute you start doing that I think as an artist you are over."
Kennard also argued that for a lot of younger acts the emergence of digital as the dominant distribution and communication system has created a new currency among artists - and it isn't album sales. He explained that getting online exposure can be the holy grail for some acts, who can command millions of views on YouTube, but sell less than 10,000 copies of an album. "To get views on YouTube is almost more important than selling records," Kennard said. "They are a massive name, but without selling albums. So they are using music as a marketing tool for the bigger brand. It is definitely changing the way that younger acts make money, the song itself is not the way to make money, that can be given away for free. It's about exposure and how many followers you have on Twitter. Your reach is kind of your value and if you can send a message to 5m people you can make a lot of money from that."
But Parsons had one word of warning for those wanting artists to relentlessly push their sales and image digitally. Parsons argued that there is a danger for those who are not used to the accelerated culture of the digital world and have used Twitter and Facebook to "scream in the faces" of their fans. "You can't treat people like mugs...sometimes you have got to apply the brakes," he said, arguing an old style radio interview got him a better sales spike that a positive tweet from Piers Morgan.
Watch the Amplifying Success panel here: