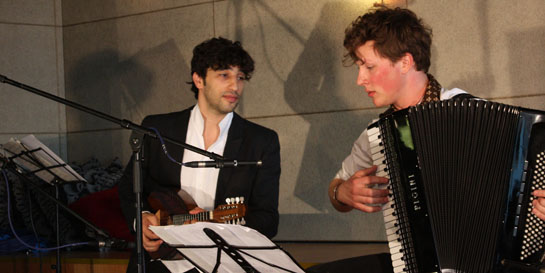 The Universal Music café has played host to two extraordinary performances thanks to the team from Sinfini Music, a website which aims to give classical a place in every music addict's collection.
Staff were treated to the Grammy-nominated playing of Deutsche Grammophon mandolin master Avi Avital followed by Decca's new genre-defying sensation Martynas, who plays the accordion like you never knew it could be played – check out his take on Lady Gaga below
Sinfini, which features contributions from Paul Morley and Cerys Matthews amongst its exclusive filmed sessions, animations, playlists, guides and interviews, taps into the new, younger audience for classical being opened up by the online world and new digital marketing initiatives.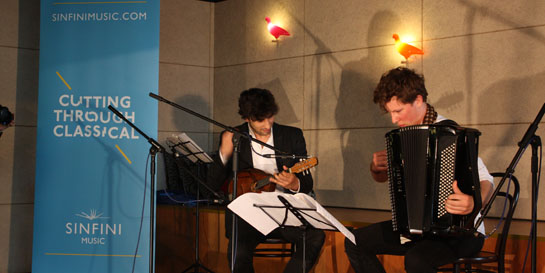 Earlier this year the Italian composer Ludovico Einaudi's (see film below) album In A Time Lapse broke records by becoming the first classical recording to sell more digital downloads than physical copies - at one point around 70% of the sales were online.
Overall, the digital split of classical album sales is at around 20%, still lagging behind the overall album market which saw digital sales finally overtake physical in the first quarter of last year. Decca head of digital Laura Monks believes the classical take-up of online might be a few years behind the mainstream rock and pop markets because the market is "less digitally savvy". But, it's catching up.
Monks believes this is partly because of the limited digital engagement of the artists themselves, and the very physical environments that they inhabit. "Lots of classical artists are so used to having this physical product that they spend ages perfecting," she says. "The recording, those sounds, is their life blood and they slave over the smallest of details, often taking months and years to get right. Moving them into an online world where it is fast-paced and everyone is fighting for the attention of the public can be tough."
Fortunately, this is changing. Many artists have now realised that technology and YouTube can provide an audience without the need for a top class concert hall and have begun to embrace digital.
Valentina Lisitsa - the so-called YouTube pianist – has nearly 60m YouTube views and counting and last year Decca used the site to stream one of her concerts live from the Royal Albert Hall.
Monks explains, "You don't have to dumb down. She is not afraid to put herself out there and make a mistake in the digital world. She'll make a video and put it up and then in the description box say 'sorry I messed up there'."
Andreas Scholl, who has an interest in filmography, makes his own video pieces as a way of expressing himself in the digital space and Eric Whitacre has used technology to create a virtual choir of voices uploaded onto YouTube.
The Yellow Lounge, which is marketed exclusively online, has also provided a new experience for the digitally sussed classical artist and music lover.
* * * * * * * * * * * * * * *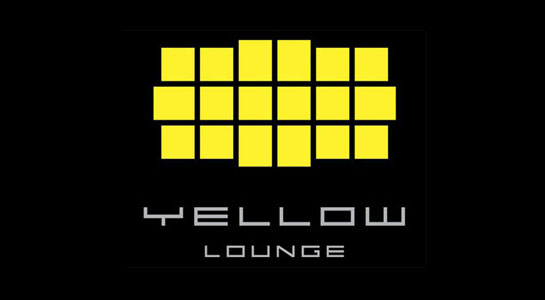 Yellow Lounge is a classical music club night. Pearls and grey flannel suits should be checked at the door because according to the marketing whizz behind the events, Yellow Lounge executive Bee Bradley, it is "a new way of presenting classical music to live audiences by throwing out some of the so called 'rules' thought to be associated with it."
Founded in Berlin, Yellow Lounge has been running in London since summer 2011 and has hosted half a dozen events in venues more normally geared to theatre or dance music, with 30 minute sets from superstar classical artists (Eric Whitacre and Danielle de Niese have played events) complemented by DJs spinning classical classics, and cutting edge VJ sets.
Bradley adds it is a unique way of promoting artists on the Deutsche Grammophon and Decca Classics labels to a younger audience. She explains, "Some youngsters might feel intimidated by the traditional concert hall and the rigmarole that can be seen to surround it; they might not know where and how to start with classical music, and ticket prices can be expensive. Yellow Lounge presents a different gateway in to the magical world of classical music."
That means violinist Benedetti playing a set in the Old Vic tunnels near Waterloo station and Milos Karadaglic and Valentina Lisitsa entertaining punters at Fabric nightclub earlier this year with tickets priced at a reasonable £10 and a bar that doesn't close all night. "You can have a drink during the performances, you can wear whatever you please. There are no rules," adds Bradley, who doesn't even market the event as classical as this can be seen as a turn-off. "It is simply great performers, performing great repertoire, in great spaces," she says.
It seems to be working. The event sells out almost immediately, as it does in cities including New York and Amsterdam. Bradley also plans to take the concept to the Wilderness festival in the Cotswolds later this year.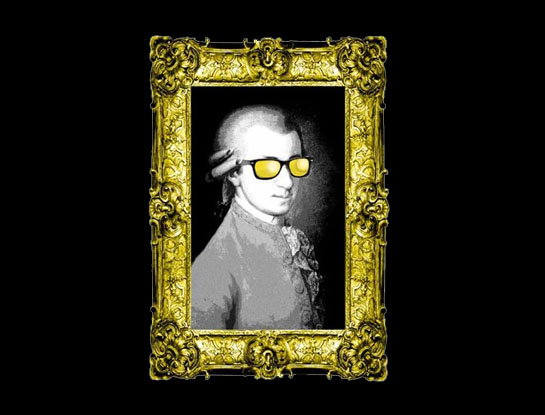 * * * * * * * * * * * * * * *
Some composers and audiences had been resistant to digital because of the perceived poor quality of MP3 files. But, initiatives such as the higher fidelity Mastered for iTunes are undoubtedly helping.
Einaudi talks technology
Einaudi is an early digital convert. He owned one of the first generation of Apple computers and regularly uses his iPad to compose music while on the move. He says, "I think everybody who listens to classical music now works with computers. They probably prefer to listen to a CD, but because many people are moving around they will also listen with headphones on their iPads or iPhones. The quality of the MP3 has also improved, especially with the Mastered for iTunes, that quality is very close to the sound of the CD."
However, a major challenge Decca, Deutsche Grammophon and other classical labels have is the way music is sold online. It is not sympathetic to the classic genre, which doesn't fit the format of iTunes or Spotify.
In pop, fans search on iTunes for Lady Gaga or the Rolling Stones; in the classical world fans search by work and by composer - rarely by artist.
Also, whereas reggae, metal, electronic and R&B fans are given clear pointers, there is no obvious genre distinctions for classical. Thus a search for Beethoven on iTunes offers 2000 tracks by everyone from the London Symphony Orchestra to the Electric Light Orchestra.
As Decca A&R director Tom Lewis says, "In classical you go for Beethoven, but which Beethoven? What work? How is it classified? There is no pan industry standard and that needs addressing. I think it is incumbent on us to make consumption of classical in the digital domain as easy as possible."
Lewis also points out that the delineation between core classical and crossover is an industry construct that isn't particularly relevant to the consumer. "The punter doesn't go 'I love a bit of classical crossover'. To them it is classical music."
Decca head of marketing Alex Cowan agrees that he "doesn't enjoy" putting classical music in one all-encompassing genre. Although retail largely dictates the categories, he suggests that it would be great to "divvy" up the classical genre more.
"Part of our challenge from a marketing point of view is separating it out and making it clear what the proposition is because the term classical scares a lot of consumers and it is just not accurate; there is a whole diversity in there," adds Cowan. "It is our responsibility to curate it for the consumer."
That is where initiatives such as Sinfini help. Sinfini marketing and insight manager Mark Lewis says he has borrowed from other areas of culture to make Sinfini relevant to how young people might be introduced to classical music.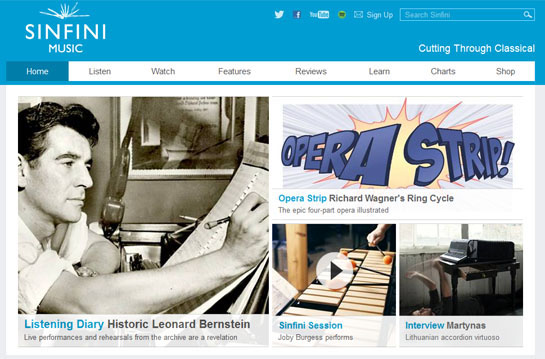 "If you watch the film Apocalypse Now you will hear and might like Wagner's Ride of the Valkyries," suggests Lewis. "But, if you put that into Amazon there will be thousands of different recordings and formats. We want to be the destination for people who want to be guided. We will give you the top five recordings of Valkyries and then tell you why we've rated them."
The development of a new generation of apps, platforms and services has provided a further opportunity to improve the digital engagement of classical fans. Some services have opened up their platforms to third-party app developers. Thus, Classify allows fans to access playlists curated by experts and to browse Spotify's catalogue by more complex identifiers such as era, instrument, style and mood.
Monks says the use of apps in the classical market can be a game changer because many of the classical audience will probably already iPads and use them daily. "It is about trying to think outside the box, find out where these people are right now. They might not be on Spotify yet, but if they are getting their news on iPads then we will try and move them over," she adds.
Cowan adds the classical marketing departments have also picked up tips from the pop world and now employ techniques such as cookie pulls to track consumers. "Previously we might have had an ad in the Sunday Times, but these techniques are much more focused," he says.
But, while digital marketing and distribution has facilitated classical's move into the 21st century Tom Lewis suggests labels still need to keep a strong focus on A&R. "Digital has presented us a powerful tool," he says. "The way to draw in new consumers is to find new artists and ask them to present repertoire that has stood the test of time in a new and exciting way."
This combination, coupled with the power of digital, has the ability to produce some unprecedented change. Indeed the speed of change - when it comes for the classical consumer - could be faster than that experienced in pop.
That's because when those customers who have remained wedded to listening to Verdi on vinyl finally make the shift to digital they will automatically miss all the early adopter stages of digital and head straight to the very latest streaming or cloud service. When that happens, no one will be talking about twinsets and pearls; it'll all be about broadband bandwidth.