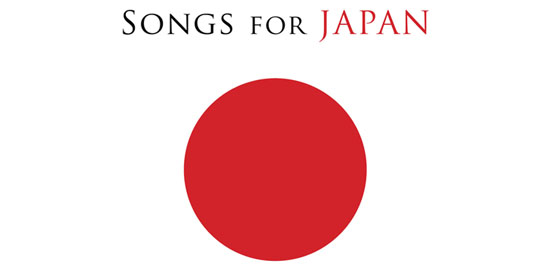 28/03/2011
As Japan recovers from the devastating tsunami and earthquake that struck the country on March 11, 38 of the biggest names in contemporary music have joined together for the worldwide release of Songs for Japan, a compilation of 38 chart-topping hits and classic tracks, available on the UK iTunes Store for £7.99 starting today (www.itunes.com/songsforjapan). Proceeds from the album's sale will benefit the disaster relief efforts of the Japanese Red Cross Society.
The Songs for Japan track listing:
1. John Lennon "Imagine"
2. U2 "Walk On"
3. Bob Dylan "Shelter From The Storm"
4. Red Hot Chili Peppers "Around The World"
5. Lady Gaga "Born This Way"
6. Beyonce "Irreplaceable"
7. Bruno Mars "Talking To The Moon"
8. Katy Perry "Firework"
9. Rihanna "Only Girl (In The World)"
10. Justin Timberlake "Like I Love You"
11. Madonna "Miles Away"
12. David Guetta "When Love Takes Over"
13. Eminem "Love The Way You Lie"
14. Bruce Springsteen "Human Touch"
15. Josh Groban "Awake"
16. Keith Urban "Better Life"
17. Black Eyed Peas "One Tribe"
18. Pink "Sober"
19. Cee Lo Green "It's Ok"
20. Lady Antebellum "I Run To You"
21. Bon Jovi "What Do You Got?"
22. Foo Fighters "My Hero"
23. R.E.M. "Man On The Moon"
24. Nicki Minaj "Save Me"
25. Sade "By Your Side"
26. Michael Buble "Hold On"
27. Justin Bieber "Pray"
28. Adele "Make You Feel My Love"
29. Enya "If I Could Be Where You Are"
30. Elton John "Don't Let The Sun Go Down On Me"
31. John Mayer "Waiting On The World To Change"
32. Queen "Teo Torriatte (Let Us Cling Together)"
33. Kings Of Leon "Use Somebody"
34. Sting "Fragile"
35. Leona Lewis "Better In Time"
36. Ne-Yo "One In A Million"
37. Shakira "Whenever, Wherever"
38. Norah Jones "Sunrise"
Proceeds from Songs for Japan will be directed to the Japanese Red Cross Society (JRCS) to support its disaster relief efforts. The society will use the funds for the ongoing provision of immediate relief and for eventual recovery support to the affected population. The artists participating on "Songs for Japan," the music labels and music publishers have waived their royalties and proceeds from the worldwide sales of the album to ensure that the JRCS receives as much support as possible from this global initiative. iTunes will also donate its proceeds from the album's worldwide sales to the benefit of the JRCS, and has prominently featured the project throughout its stores worldwide.