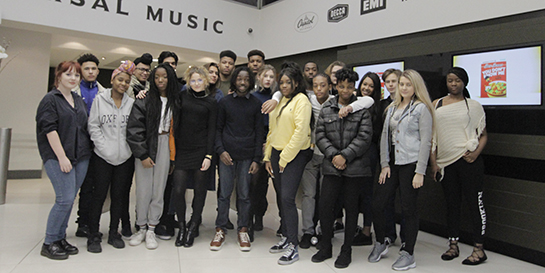 Over the last two weeks, 32 trainees from East London Arts & Music have been working alongside the teams at Universal Music to learn more about the industry. Communications work experience Ellie Lawrie got the inside scoop from the next generation of industry execs.
Ellie writes: After two weeks, ELAM's time at Universal is coming to a close. Throughout this time we've all had the opportunity to learn a great deal about the industry and we're leaving with a much clearer vision of our future careers. There is no doubt these past two weeks have been an experience of a lifetime – I could never have imagined my time would have included meeting Take That.
Here are the thoughts of some of our trainees:
"Work experience has honestly been amazing," says Cheyanne Beharie, who's worked with Ulive. "I have met a team of creatives who have a true passion for what they do. Each of them have really inspired me to continue with my musical journey. A massive thank you to ELAM who has given me this opportunity to take a look into my future!"
Polydor Promo trainee René was given the opportunity to go to BBC Radio 1 to watch the Live Lounge: "I'd never been to BBC before so that in itself was cool. I was given the chance to watch Live Lounge sessions with Camila Cabello and Machine Gun Kelly which was great. All members of the Polydor team have been very welcoming and inviting. I am so happy I was given the placement here at Polydor and thank you to everyone for giving me this life-changing opportunity."
Hannah Morgan has been assisting in the studios at Abbey Road. She says: "It's so interesting to be in the midst of musical history here. You can feel the excitement in the air from everybody. I've learnt so much knowledge and gained so much experience that I can take with me and keep forever."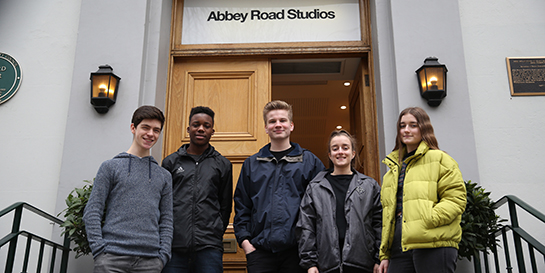 Also at Abbey Road, but on the events side, has been Connie Morgan. "It has always been a dream of mine to have experience in any organisation renowned for music!" she says. "It has been amazing and I will remember the experience for the rest of my life".
Universal Music's Morna Cook has overseen the placements. She says, "It's such a unique opportunity for the trainees to get some hands on, real world work experience. We're really proud that we can give so many trainees an insight in to how we work and what the industry is actually like."
Since ELAM opened in 2014, Universal Music has been a huge support to the college and its students. As a college, we have masterclasses, work placements and mentors coming from the company, which has opened many doors for our trainees. This group of trainees only started college in September 2016, but have already had a huge amount of opportunities offered to them.
Our trainees have been scattered around London with placements in Kensington High Street, Abbey Road, Decca at Kensington Village, Caroline in Ladbroke Grove as well as our sister company Universal Music Publishing in Fulham.
Thanks to Universal, ELAM trainees have been able to get a taste of what this industry is like, which is an amazing experience for young professionals, like ourselves. As a thank you, the trainees have put on an ELAM On Tour final performance. Check out @ELAMOnTour on Twitter and Instagram, to find out more of what we've been up to.