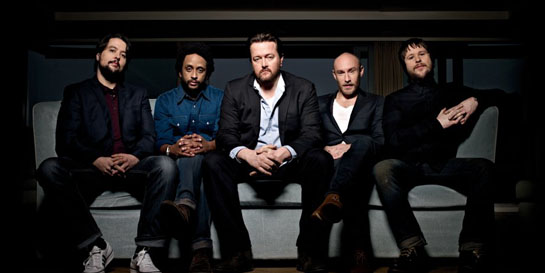 Forget about Dwain Chambers and Christian Malcolm dropping the baton in the European Championships. Ignore the stuff psychologists are saying about Stella McCartney's Olympic kit fielding the wrong colours. And who cares about the likely gridlock in London come the end of the month.
The new title sequence for the London 2012 Olympic Games, featuring the music of Fiction artists Elbow, has put all the negative talk on the outside track.
A short 60 second teaser for the Stadium UK campaign - and music - was broadcast by the BBC last night as Spain went in for half time leading in their Euro 2012 final against Italy.
The full version - it's nearly three minutes long - is scheduled for broadcast tomorrow evening (July 3) and judging by the early snip, Guy Garvey and his band have done a great job at capturing the excitement and expectation as the whole country prepares for the greatest athletic show Britain is likely to stage this century.
The Elbow track, First Steps, soundtracks an animated sequence where Britain is portrayed as a giant stadium with athletes preparing to do battle against an imposing range of incredible landscapes and features cyclists racing around quarries, swimmers ploughing through seas marked by fishermens' nets and a BMX biker readying himself on the edge of a massive cliff.
The music is given that big time feel by the BBC Philharmonic Orchestra while the NovaVox gospel choir, which provides the vocals, help to conjure the sort of stirring anthem fans of the Bury band are used to: a sort of classical One Day Like This crossed with Open Arms.
Elbow may have been a natural choice for the track because their music often crops up as the accompaniment to those best goal sequences and heroic sport montages on TV shows. But, Garvey said the track had been a "real challenge" to create (they have been working on it in secret for months) because of the expectations.
He wanted something "anthemic and bold" and explained First Steps could be interpreted as proud parents watching their children taking baby steps or athletes performing to their maximum potential. He added, "There was a big feeling of responsibility, but also we're just dead proud to be doing it. And strange as well with none of us really being athletic."
In the spirit of the Olympic movement, Elbow has also foregone fees and royalties and when the digital-only track becomes available for download on July 27 all profits will go to BBC Children in Need and Sport Relief.
The campaign was created by the advertising agency Rainey Kelly Campbell Roalfe Y&R with animation provided by Passion Pictures and produced by Red Bee Media. Rainey Kelly joint chief executive Alison Hoad said national anticipation has been building and the agency had wanted to capture that national pride.
Well, with this song and campaign, both ad agency and Elbow have got the Olympics nicely settled in the blocks.