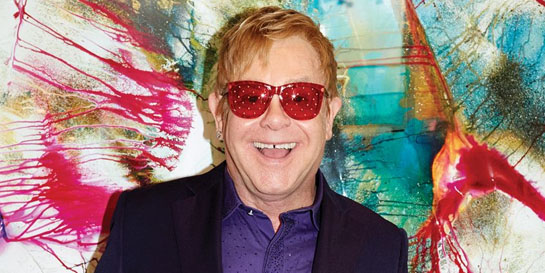 Certified musical legend Sir Elton is hitting the promo trail in support of his 33rd studio album Wonderful Crazy Night. Released today, the LP sees the flamboyant star return to the rock 'n roll past that's excited fans and his label Virgin EMI alike.
Virgin EMI MD Clive Cawley says, "Sir Elton has returned with his most vibrant album in years where he's smashing a whole new shade of sonic pleasure out of the piano and the result, in his own words, is his "70s record made in 2015". For those who haven't wrapped their ears around an Elton John album in some time this is the time to reacquaint yourself with a master at work."
For the first time since 1973, Elton took a trip this week to HMV's flagship store for a meet and greet with a handful of lucky fans.
The event followed a live session on Ken Bruce's Radio 2 show, where he performed three new tracks and three classics, including a moving rendition of Tiny Dancer, dedicated to the late Sir Terry Wogan. Elton returns to the Beeb for a performance on The Graham Norton Show later this week.
Press have flocked to give their take on the album. The Independent says Elton's delivery of carefully and enthusiastically forged handiwork "says much about his respect for his legacy and his audience".
Elton hits the road later this year, with dates up and down the UK, arena dates in Europe and the US and 10 nights at Caesars Palace in Las Vegas.