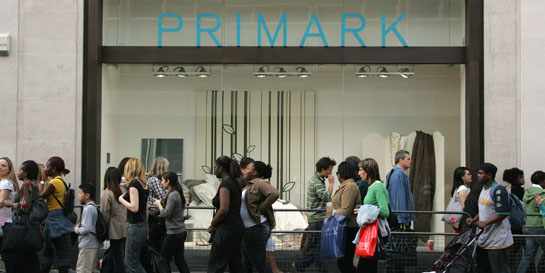 Brian Rose, Managing Director - Commercial Division UK & Ireland, recently signed off on a ground-breaking deal to sell CDs in Primark. He discusses how music and fashion can become the perfect retail partners and also how new digital music services, smart-phones and tablets will make this Christmas Day a high-water mark in digital downloads.
"In partnership with services such as iTunes, Spotify and Deezer, Universal are already making the 'music whenever, wherever' mantra a very real experience. Unless you're half way up Everest or diving for Mayan treasure, Lady Gaga or Rihanna are just a finger swipe away.
The big explosion of portable devices over the next few months is going to make this Christmas unforgettable for music. There is already no shortage of smart-phones and tablets out there and the whole bunch of new ones - Amazon's Kindle Fire is one stand-out - about to hit the shops mean we can get more songs by everyone from Ellie Goulding to Elbow out to millions more people over the festive season and beyond.
The expectation is that an incredible four million smart-phones and another two million tablets will be bought as Christmas presents. That means six million new ways of delivering music will be unwrapped and undoubtedly tested on Christmas Day.
It's going to be a digital bonanza - in fact we believe more digital downloads will be made on December 25 than on any other day this year.
This massive uptake in digital sales is creating an interesting discussion at Universal (one which would once have seemed virtually unthinkable): should we release a record on Christmas Day? I don't think it will be long before this happens.
In the meantime we want to make sure every single music fan is catered for - and that also means those who enjoy shopping on the High Street.
Because of the loss of chains such as Woolworths, Virgin and Music Zone there aren't as many places to find CDs. That's why our link up with fashion retailer Primark to sell a range of Universal CDs from acts including Jessie J and Rihanna is so interesting.
This isn't the first time we've gone down the fashion route; we did a deal with Bhs in 2009 and earlier this year linked with Liam Gallagher's Pretty Green stores to sell a range of classic vinyl albums like the Stones' Exile On Main Street and All Mod Cons by The Jam. It took us a couple of years in Bhs before the model was ready for other record companies to come in, but now they are in there selling too. And we would expect Primark to bring in other labels further down the line - the wider the range of music on offer the brighter the future for everyone.
Our tie-up with Bhs worked well so we looked at (Universal-owned merchandising group) Bravado's relationship with Primark to see if we could take music and fashion a step further.
Bravado has done more than most to move music-related T-shirts away from the ubiquitous baggy, black staple with a rock band plastered on the front. Now they are more tailored and that has put our merchandising right at the front of fashion.
Artists like Florence + The Machine, Katy Perry and Nicki Minaj are into their fashion and Primark's customers are into their music so the two are very complementary. Some new research from Kantar Worldpanel has confirmed that fashion shoppers at Primark are more likely to buy a CD than the average person, and in fact increased their CD spend last year in a declining market – as well as being big digital music fans.
We've already run a trial in around 12 stores and are now looking at ways to present around 20-odd titles in about 50 outlets. It's an exciting development for us because we need to look at how you present music in a fashion store. We're already thinking about creating music departments in some larger stores and one of our ambitions is to create an integrated in-store campaign around an act.
So next year if we have a new Jessie J record , it will not just be about putting the CD on a rack. We will see what new garments are being released at the same time and how we can put them together with the record. We want to create a bit of theatre.
Primark is an extremely successful retailer and if we can get the music and fashion offer right for them there is no reason we couldn't work with other high street retailers, which is pretty exciting."