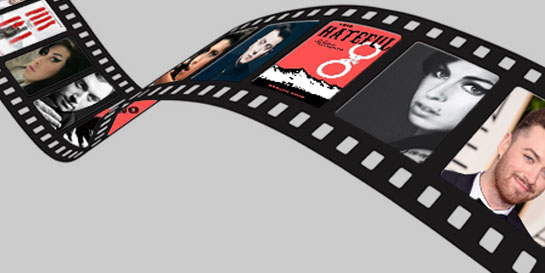 Universal Music artists are kicking off 2016 in the big screen spotlight, led by Sam Smith who has won a Golden Globe award for his official Bond theme song Writing's On The Wall with Jimmy Napes. Katy Perry was on hand last weekend to present the Golden Globe for Best Original Song in a Motion Picture , a category which also saw a nomination for Ellie Goulding's Love Me Like You Do from Fifty Shades of Grey.
Sam's big win came in a week of recognition for Universal Music in the film world.
AMY, Asif Kapadia's documentary telling the story of six-time Grammy-winner Amy Winehouse, has been nominated for an Oscar in the best documentary feature category. It is also nominated for two Baftas – for Documentary and Outstanding British Film.
Universal Music UK chairman & CEO David Joseph and director of business affairs Adam Barker are executive producers of the film, which is a Universal Music co-production.
Elsewhere in the Oscars, there was another nomination for Sam Smith and Jimmy Napes for Writing's On The Wall from Spectre in the Original Song category, alongside The Weeknd (Abel Tesfaye), Stephan Moccio and DaHeala for Earned It from Fifty Shades of Grey and Lady Gaga and Diane Warren for Til It Happens To You from The Hunting Ground.
In the Original Score category, Universal Music distributed the sound recordings for all five nominations: Thomas Newman for Bridge of Spies, Carter Burwell for Carol, Jóhann Jóhannsson for Sicario, John Williams for Star Wars: The Force Awakens and Ennio Morricone for the Decca-released soundtrack for The Hateful Eight, which has already won a Golden Globe.