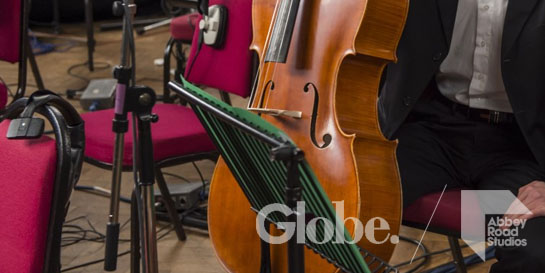 Universal Music UK and Abbey Road Studios are launching a new division, Globe Soundtrack & Score, to maximise the artistic and commercial impact of music in film and TV.
The division, which will be based in the world-famous studios, will work with producers, directors, music supervisors and composers to source and create music for a wide variety of projects. It will contribute at the earliest stages of a soundtrack, in terms of funding as well as content and composition.
The first outing for the new approach will be On Chesil Beach, the highly-anticipated adaptation of Ian McEwan's 2007 novel starring Oscar-nominated Saoirse Ronan. The film, directed by Dominic Cooke, is being produced by Elizabeth Karlsen and Stephen Woolley of Number 9 Films, the driving force behind the acclaimed, Oscar-nominated Carol and Youth.
Marc Robinson, recently promoted to President of Universal Music UK's creative and commercial division Globe, is overseeing the new venture. He describes the deal with Number 9 as reflecting "a complete reimagining of how film and TV music is created".
Robinson says: "Globe Soundtrack & Score is about being part of the creative process from the beginning, helping to shape and fund budgets and then being the team that takes the music through to recording, release, marketing and distribution. It's at that point the strengths of Globe as part of the Universal Music infrastructure kick in – it's like a label services company for film-makers".
Universal Music has already enjoyed considerable success with film and TV music – most recently with the Oscar-winning Ennio Morricone soundtrack for Quentin Tarantino's The Hateful Eight. Other big-selling soundtracks for the company have included Spectre, Star Wars, Guardians of the Galaxy and Fifty Shades of Grey. Its latest completed project is for John Carney's Sing Street.
But with music streaming services underpinning an evolving market for soundtracks, Globe Soundtrack & Score is re-thinking the existing model.
Robinson says: "Globe Soundtrack & Score will be a central resource for all aspects of music in film production. If you're producing a film, or a TV show, you believe in the importance of music, want to work with some of the best specialists in the industry and utilise some of the finest facilities in the world, that's what Globe Soundtrack & Score exists for."
Globe Soundtrack & Score will be 'label-agnostic', working with film producers and music supervisors to source the music best suited to any film, TV show or trailer, whether or not that music is part of Universal Music's repertoire. It will also sign scores and soundtracks and establish partnerships with film-makers from an early stage. The division expects to draw on the incredible facilities, equipment and engineers at Abbey Road Studios, although again the emphasis will be on taking the right route for every individual project.
Robinson adds: "At the moment we see a lot of musical visions being compromised because of budget, and that's not in anyone's interest. There is a passion for scores and for soundtracks and people are listening to them on streaming services at an increasing rate.
"We have re-thought the model and are finding original and exciting ways to engage with film-makers and film music fans alike. We couldn't have wished for a more inspirational project than On Chesil Beach to get things started."