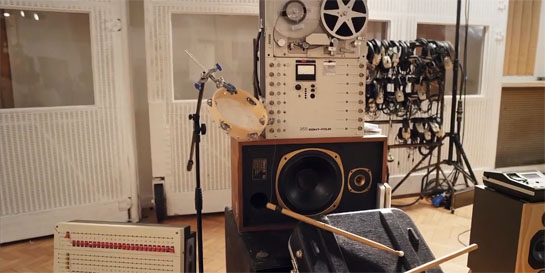 A 90-second race through time filmed at London's world-famous Abbey Road studios, Music Remains shows music at the heart of the story of one family.
Commissioned by IFPI, representing record labels worldwide, the film was created by creative director Steve Milbourne, working with director Martin Stirling at Unit 9 Films. They built a Rube Goldberg machine showing recorded music technologies changing over the decades. An ingenious chain reaction cascades through the generations, beginning with a gramophone and ending with an iPad.
The film is made in a striking and technically challenging one-shot, ending with a simple message: "You're the one thing that always remains – music."
The whole project was filmed in two days in Abbey Road's Studio No. 2. Behind the scenes, a short "making of" documentary was also made. It shows how the production was put together, the building of the Rube Goldberg Machine and the 48 takes required to make the short.
Songs featured in the video
1910s: The Oceanna Roll – Arthur Collins
1930s: Sing Sing Sing – Benny Goodman
1950s: Dream Lover – Bobby Darrin
1960s: My Generation – The Who
1970s: Dancing Queen - ABBA
1980s: Walk This Way - Run D.M.C.
1990s: Yellow - Coldplay
Early 2000s: Hey Ya! - OutKast
Late 2000s: Umbrella - Rihanna
2010s: Get Lucky - Daft Punk
What do you think? Let the IFPI know on Twitter - #MusicRemains