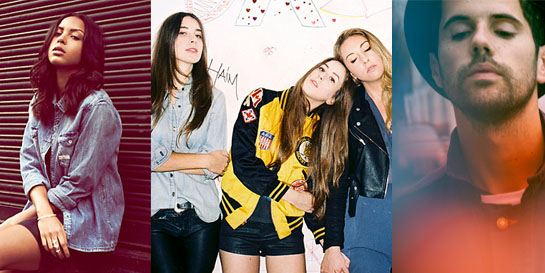 So pop is popular. And it got even more popular last year. But, wait. Rock is making a comeback, apparently. Mumford & Sons, The Killers and Florence + The Machine have all "helped revive" rock music.
These are a few of the conclusions reached by the BPI/Official Charts Company in their latest review of British music buying tastes after what looks like an impressive bit of number crunching.
Pop music (more about genre definitions later) claimed something like a third of all album sales last year. It did better in the singles market, with a near 40% share.
But, don't despair: like Frank Sinatra or David Bowie, rock is supposed to making one of its many well timed comebacks. Mumford's Babel and Coldplay's Mylo Xyloto helped the genre to its best performing year in the albums sector since 2008, although its 31.5% share last year still lags a long way behind the 2006 peak of 41.5%.
Good news then. Well, yes. But, what do these figures really tell us about music and what people like? Because not every A&R in town is salivating over the stats and sweating about how they can emulate Emeli or deliver Del Rey lite.
London Records senior VP A&R Jo Charrington articulates the problem of slicing and dicing artists and bands so that they can be conveniently squeezed into the square pegs of the genre hole. After all, one Rihanna's R&B might be another person's pop.
"The whole thing about a genre working or not working doesn't matter one bit as long as people are buying good music," says the A&R boss, who has worked with a vast raft of acts including JLS, Olly Murs and Paloma Faith. "You could argue that Mumford & Sons is rock, but it could also be folk. I love pop music and it's been a good year for pop music, but it's all different. I can easily see Jake Bugg or Coldplay could fit in there. Scouting for Girls, they're a guitar band, but they are still popular. As long as it is a great song, who cares what category it is."
Exactly. Although Charrington does accept that it is sometimes useful to put a label on things. "You give references because you need something that makes people comfortable, it's simpler for people to understand. But, from a creative point of view we are never led by 'it's got to be this or that'. You don't know what will grab you and be special."
Charrington's top tips for 2013
1. Arlissa
2. Jake Bugg
3. Tom Odell
4. Haim
5. Gabrielle Aplin
Charrington's view is pretty well endorsed by several other Universal Music A&Rs, including Polydor A&R boss Ben Mortimer. "Lana Del Rey and One Direction are both lumped in the pop category. But, that's oversimplified."
Fiction Records chief Jim Chancellor also questions whether the appetite for pop is actually changing significantly or whether the statisticians should be looking a little deeper into their analysis. "It's never been any different with pop. Every year pop is dominating, that's the way it's always been," says Chancellor, who identifies the increasing number of singles - and by definition pop music - released as having an impact on the figures. "I don't see any change".
In fact, Charrington and others believe young fans are less and less hung up on categorising their favourite acts than perhaps older fans, who might slavishly have followed just one or two genres. "This is the iPod generation, they'll have Rihanna, Mumford and Crystal Castles all alongside each other on their players."
But, what about rock's supposed return? Well, there's a problem there too: Chancellor doesn't think it has been away. And, he's right. Even the BPI/OCC figures bear him out with rock consistently knocking around the 30-35% mark for the last five years.
2012 album sales by type of music (% units)
Source: BPI based on OCC data

Chancellor concedes the digital world, the emergence of YouTube and streaming and the closure of bricks and mortar record stores, might have made things a little more difficult for his guitar bands. But, he insists there are still plenty of quality rock groups out there and doing the business. "You've got bands still selling albums, rock is in a good place. Rock has never left my building," he states, citing The Maccabees output over the last year or two and the emergence of the Mercury Music Prize winning Alt-J to back his argument.
Chancellor's top tips for 2013
1. Biffy Clyro
2. Foals
3. White Lies
4. Jamie N Commons
5. Nick Mulvey
Mercury A&R manager Adrian Jolly would welcome a resurgence of rock, if that's what is coming. But, he's not hung up about it. What Jolly and his A&R colleagues mostly seek is good music - wherever it comes from and whatever people want to label it. "The charts can't be full of dubstep or just R&B. We want a mix," he says. "The best of everything should be in the charts."
And both Chancellor and Jolly identify a problem if the media starts to believe pop is the pre-eminent genre that should be protected at the detriment of R&B, dance, hip hop or rock. Chancellor recognises that it is "slightly harder" to get a rock act on the playlist at Radio One. "The world of radio has become more polarised and it is harder to have a big (rock) hit in that world," he says. "It does feel like the business is feeding the pop side more than rock where you have got to prove yourself."
That said, no A&Rs worth their salt are following one particular genre or trend at the detriment of another. They might have preferences but, as Jolly attests, the real pressure comes down to "selling records, full stop." He adds, "It's natural to lean in terms of what you like, but I'm never pressured."
Both Jolly and Mortimer also identify the major pitfall of chasing after something that is perceived as hot. "When something is doing well the natural reaction is to jump on it and copy it. That happened six or seven years ago with rock when a lot of sub standard bands came out that sanitised radio," says Jolly, who adds that the A&R community should always resist - or "police ourselves" - against piling onto the latest trend uncovered by NME. "It's a bit like buying shoes in a sale, it doesn't always mean they fit well or you like them. From signing a band to when the music comes out can be an 18 month campaign and in that time the whole surface of the earth will have changed."
Mortimer also argues A&R policy can never be dictated by current trends. "If you sign what radio is playing now you will be looking for the next Calvin Harris. But, in the time I will have found the new Calvin Harris junior and got them up and running, things will have moved on," he argues.
According to Jolly there's a simple equation: if it's good, people will like it. He uses the example of Jake Bugg, who he signed in the summer of 2011 as an example. "We didn't sign Jake because we thought guitar music was coming back, we signed Jake because he is a great artist, guitarist and songwriter."
Chancellor has the same mindset, always looking for the bands that are "brave in that they want to stand out." He adds, "The shining example of the way to do it is Alt J. They have done exactly what they wanted to do and do it brilliantly. People have found that point of difference."
Charrington adds that seeking the very best has remained a fundamental principle. She says, "That's what we always remind ourselves of. I don't always know what we are looking for, but we sign stuff we like and artists we believe in and then it is up to the public."
Mortimer cites Haim as a good example of ignoring trends and striking out with only quality and originality as his guide. "I knew Haim were good no matter what was going on elsewhere," he says. "They are doing it themselves and have created their own world. In fact if you look at all the good artists, like Adele and Ed Sheeran, they have created the world for themselves. People see that and buy into it."
Which artists do you think will hit the big time in 2013? Let us know in the comments below.