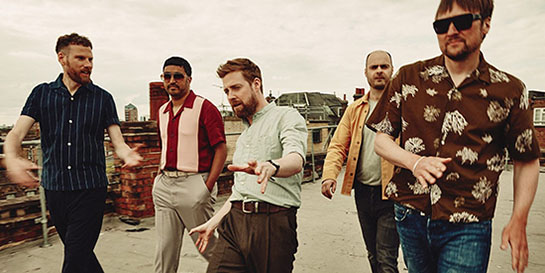 Kaiser Chiefs are celebrating 15 years since their multi-platinum breakthrough Employment with the release of their seventh studio album, Duck, on Friday.
The band are back on their original label Polydor for the release. Senior marketing manager Ali Tant says, "To bring the band back to their home label Polydor was an easy decision. The resulting album Duck is a fantastic example of what makes this band special. Nothing but fun, singalong moments. Having the band play to over 20,000 fans at their hometown show at Elland Road back in June was a perfect setup for the record."
Polydor have been busy in the run up to release day which will see the band head over to Virgin Radio for a session. The campaign has put a strong focus on the band's home city, Leeds, with indie stalwart Crash Records hosting an album day on Saturday and the band playing four shows at Brudenell Social Club. A bespoke Kaiser Chiefs beer has been created for the campaign and there will be exclusive editions of the vinyl, CD and cassette made available for fans in Leeds including a tri-coloured vinyl.
Ahead of the album's release, Kaiser Chiefs the single People Know How To Love One Another accompanied by an animated music video showing the boys road tripping through different colourful landscapes.
Demand for their upcoming tour has been phenomenal with further UK dates just announced. The last show will be at London's O2 on February 1.