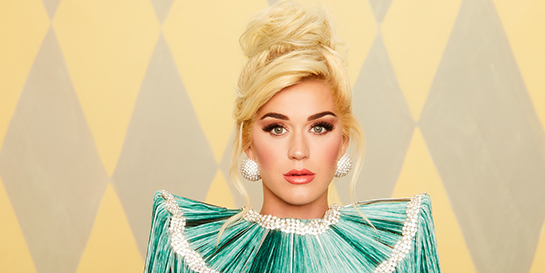 The team at EMI have been ready and waiting for Katy Perry's new album Smile and release day is finally here. It's been a week of announcements for the global superstar, as Teenage Dream - her first LP to score a UK number one - celebrates its tenth anniversary and it's surely fitting that as the combined global streams of Daisies – the first single from the LP - soar past the 125m, Katy welcomes her first child Daisy into the world.
With exaggerated cartoon imagery and joyful pop hooks by the bucketload, Katy's fifth mainstream album is set to bring a load of optimism into a pandemic-plagued world, something her label have been capitalising on with this campaign. Throughout this month, Perry has been interacting with fans on a livestream initiative called 'Smile Sundays', where she answers fan questions, teases songs from the album and gives an insight into her life – even allowing a sneak peek into the nursery her and partner Orlando Bloom have prepared for their first child - after having to delay the release of the album due to unavoidable production delays.
What's more, the team have partnered with Alienware to curate a gaming experience inspired by the Smile music video. The circus themed video game 'Katy's Quest' will be available as of today – and tasks gamers with finding the circus characters' lost smiles. Katy is an active advocate of many philanthropic causes, and so for this activation has partnered up with MusiCares and Extra Life, which work to give back to the music industry and unite gamers around the world to support their local Children's Miracle Network hospital.
Taking to Instagram, Katy said that she wrote title track Smile "when I was coming through one of the darkest periods of my life and had lost my smile. This whole album is my journey towards the light – with stories of resilience, hope, and love."