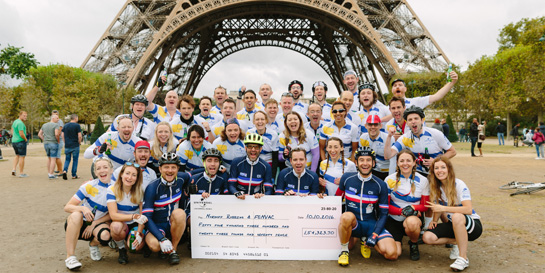 The donations have been counted and Universal Music's London to Paris cyclists are proud to announce they have raised over £61,000 for French aid charity FENVAC and Nordoff Robbins, the UK staff's charity of the year.
The total, £61,026.74 to be exact, will be split between the two charities. The portion going to Nordoff plays a huge part in Universal Music UK's aim of funding the training for six dedicated music therapists during 2016.
Alex Doherty, Universal Music UK's SVP, Business Affairs & Business Development, one half of the duo who organised the ride, says, "We'd spoken for a while about a fundraising ride and London to Paris seemed like the obvious choice. We wanted to strengthen the relationship between our British and French staff following the tragic events last year at The Bataclan as well as supporting a charity close to the hearts of the Paris-based team – FENVAC."
Much of FENVAC's funds and attention have been focussed on those affected by the 2015 terrorist attack on an Eagles of Death Metal gig at the Bataclan in Paris. Eighty nine people lost their lives in the venue that November evening, including several members of and friends of the Universal Music family. So it was with an enhanced sense of purpose that the team set out from the Kensington High Street office on their 480km. The 39-strong UK team was bolstered by four members of the Universal Music France team who had travelled over by Eurostar the night before to be there at the starting line.
Thomas Lorain, label head of Caroline France, put pen to paper to record his experience. He writes: "When Eric Lelievre (a music guy who could have been cycling pro) asked me to join a Universal Music cycling trip from London to Paris, I was shocked. I commute every day and see these signs in Paris indicating a bicycle path to London. I have fantasized about joining the next Caroline international meeting on a bike. Whilst I have a certain experience in endurance, I am 'butt sensitive' and never spent more than three hours on a saddle. However, when I learned one of the goals would be to gather money for the victims from 13 November, I had no other choice but to say yes"
"I was pushing Caroline UK to release Eagles of Death Metal with us in France, but Thomas Ayad from Mercury was the one who convinced the management to release that album. He did not come back from that gig. Some of my oldest friends were there that night. One of them is fighting every day since to be able to walk again. The brother of our Caroline France head of promo has founded FENVAC, and is helping all these families in despair with psychological and legal help. My friends have had to use his services."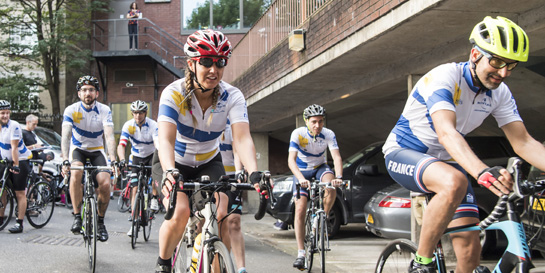 "And so, ultimately, I had no choice but to commandeer a few colleagues, get on my bike and become part of this wonderful effort. It was a decision based on tragic circumstances, but it lead to an incredibly uplifting experience."
Alex adds, "When we all came together to kick this off six months ago we started out the training with such a mixed group of abilities – some people had literally never cycled further than the corner-shop before, whereas others were hardened Iron-man Triathletes. So on the ride, trying to keep everybody together physically, and engaged mentally was the real challenge – which was helped significantly by our fantastic ride co-ordinators Club Peleton. There were some trials along the way, particularly on the very hilly first day in the UK, but long before we reached The Champs Elyse, we were all together cycling as a team, with everybody helping each other out along the way. I think collectively we all felt a group sense of achievement and camaraderie around that in particular."
The Anglo/French team's pedals were powered not just by a commitment to two great causes, but by the support of Vevo who supplied all riders with a water bottle to keep them hydrated – as well as chipping in with a generous donation. Shirt sponsor Russells helped the team arrive on the Champs Elysees in style, kitting them out with a jersey in Universal Music team colours.
The London to Paris 2016 riders are:
Mark Ayres, UMG
Andrew Bayley, Spinefarm UK
Rebeka Brylewski, Universal Music UK
Andrew Clark, UMG
Phil Collins, UMG
Michael Cromwell, Universal Music Publishing UK
Andy Davies, UMG
Alex Doherty, Universal Music UK
Pascal Enfert, Barclay (Universal Music France)
Kate Faragher, Universal Music UK
Paul Gathercole, UMG
Leslie Gilotti, UMC
Sarah Hammond, Virgin EMI
Jonathan Hanns, Universal Music UK
Adam Harman, Polydor
Jennifer Hills, Globe
Richard Hinkley, UMC
Barry Holden, Decca
Simon Hosken, Eagle Rock
Dominic Jones, Decca
Eric Lelievre, Barclay (Universal Music France)
Pierre-Michel Levallois, Universal Music Publishing France
Rebecca Levings, UMC
Thomas Lorain, Caroline France
Makesha Macfarlane, UMG
James Meadows, UMC
Laura Monks, Decca
Jennifer Moses, Universal Music UK
Nick Moxham, Universal Music UK
Kevin Phelan, UMC
David Rowe, UMC
Paul Ryall, Universal Music UK
Michael Seymour, Universal Music UK
David Sharpe, Universal Music UK
Alistair Shiels, UMC
Dickon Stainer, Decca
Phil Stubbs, Universal Music Publishing UK
Julien Tanguy, Universal France
Rebecca Wills, Island