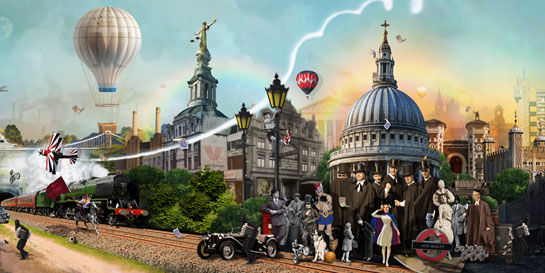 It's been a wacky few weeks for team UMC, who have successfully harnessed the unique sense of mischief of Madness, one of the best loved British groups of all time, for their new album Can't Touch Us Now.

"The band have been actively involved in every step of the campaign," says product manager Hannah Chadwick. "They're up for almost anything and have bought their usual sense of humour and fun. Who else could get Ed Balls dancing in the halls of Elstree Studios?"

The impromptu nutty walk was captured during the band's trip to Strictly Come Dancing last week where the band played new single Mr Apples for the primetime audience.

The group paid a visit to old friend Jools Holland earlier in the month, playing four tracks, including three new tracks from Can't Touch Us Now.

The veterans of 35 years also achived a career first in the build up to releases, securing their first ever Radio 2 A-list.

Can't Touch Us Now is the latest staging post on what some people still insist on calling a 'comeback', but is actually an extended rejuvenation and reinvention that has been gathering pace since the early 90s. Can't Touch Us follows 2009's acclaimed London concept album, The Liberty of Norton Folgate and 2012's equally well regarded Oui Oui, Si Si, Ja Ja, Da Da.

It provides another shot of what lead singer Suggs describes as "the warp factor to get away from the black hole of Eighties nostalgia". The album manages to be both 'classic Madness' and at the same time modern and inventive. All six members contributed tracks to the record and their collective experiences, memories and friendship are all there in the grooves.

Even though it's been over 35 years since the band's first single (The Prince, 1979), they show no sign of slowing up in terms of promotion or any loss of appetite for playing live.

Hannah adds, "There's a whole host of other stuff coming up too, promo that only Madness could manage to pull off. Keep an eye on the Q Awards and in and around Camden in the coming months.

On the live front, the summer was dominated by two festival appearances: first there was the show-stealing greatest hits package at Glastonbury; then there was Madness' very own House of Common shindig on Clapham Common on August Bank Holiday, which proved to be a joyous celebration of all things Nutty. Still to come is the House of Fun weekender at Minehad Butlins from 18-21 November.

Then in December the real work starts - The Can't Touch Us Now tour sees the band play 12 shows in 17 days, including gigs at London's O2 (10 December), the SSE Hydro Glasgow (15 December) and the Manchester Arena (16 December).

The tour will, of course, showcase the brilliant new album as well as reminding everyone of Madness' position in the pantheon of Great British Pop. And each show will prove that this is a band with a catalogue second to none and a new album to stand alongside their very best work.