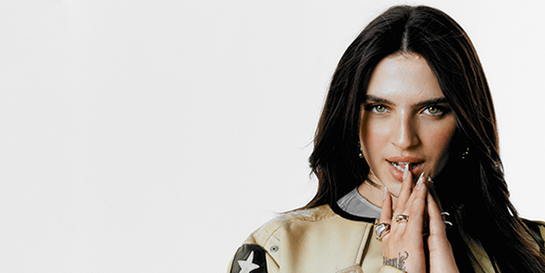 Capitol's Mae Muller will be representing the UK at the 67th Eurovision Song Contest, set to be held in Liverpool on behalf of Ukraine, with her new single, I Wrote A Song.
The news was exclusively revealed by Zoe Ball on her Radio 2 breakfast show yesterday, and last night Scott Mills had the first exclusive TV interview with Mae and the first televised broadcast of the music video on BBC One.
Mae co-wrote I Wrote A Song with BRIT-nominated songwriter Lewis Thomson and Karen Poole, who has written for Kylie Minogue, Lily Allen, David Guetta and Alisha's Attic.
Jo Charrington, Co-President of EMI, says, "We're incredibly excited for Mae to be the UK's entry for Eurovision. Mae is a standout talent with superstar quality, she's bold, charismatic, fun and a mesmerising performer who has already amassed a global following through her music. Working alongside TaP, Modest! and the BBC, we feel hugely confident Mae will deliver an iconic moment for the UK at this year's momentous show"
The semi-finals will be broadcast on BBC One and BBC iPlayer on Tuesday 9 and Thursday 11 May at 8pm with the Grand Final taking place across the BBC on Saturday 13 May from 8pm.