Virgin Records are celebrating their 40th birthday in style with a bumper exhibition in central London. Team Umusic.co.uk got an early exclusive sneak peak of the exhibition the night before its opening to the public.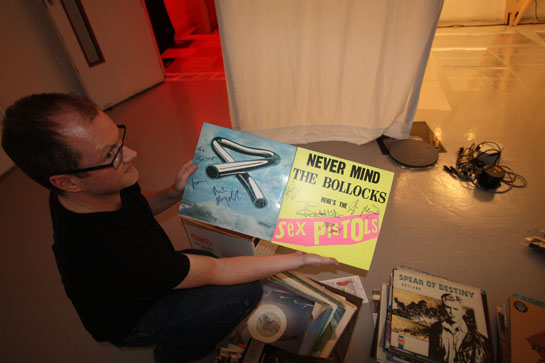 The first thing to greet the public is the wall of Virgin vinyl. Senior repertoire manager Jason has dug deep into his personal collection to present some of the early releases from the label. He's pictured above with his signed Sex Pistols and Mike Oldfield records.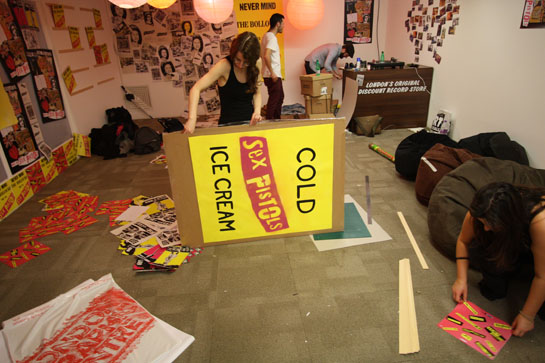 The exhibition covers the entire Virgin Records story, including the original Virgin Records and Tapes shop in London. The team have lovingly recreated "London's original discount record store", fag-ends and all, during its Sex Pistols take over.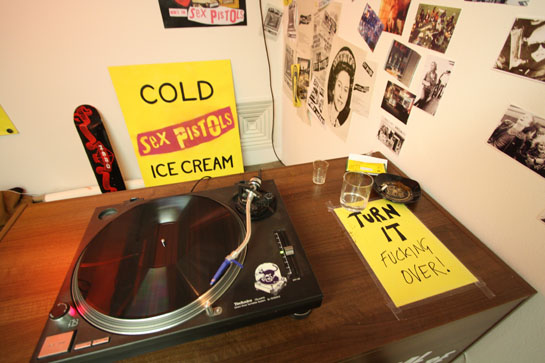 The vinyl gracing the turntable isn't a Sex Pistols LP, but recordings of some of the original staff, speaking about their time working in the store.
And of course there's photos documenting the store.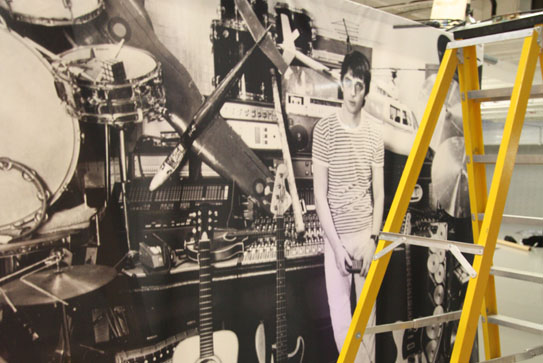 Mike Oldfield and his seminal album Tubular Bells started the whole Virgin Records story.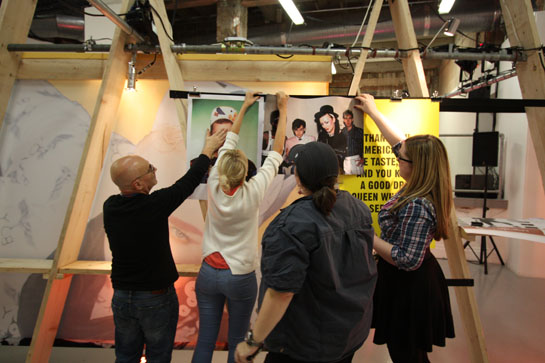 There's plently of photos from the very early days of the label. The whole Virgin team were hard at work getting the show ready.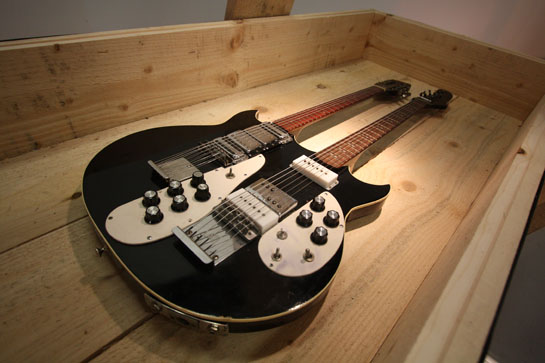 Genesis also play a huge part in the Virgin story. Guitarists will be drooling over Mike Rutherford's double-necked, super-cool custom guitar.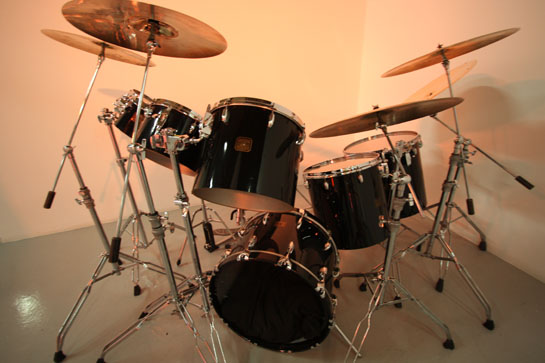 And the drummers will be drooling over Phil Collins' drum kit, installed by his very own drum technician.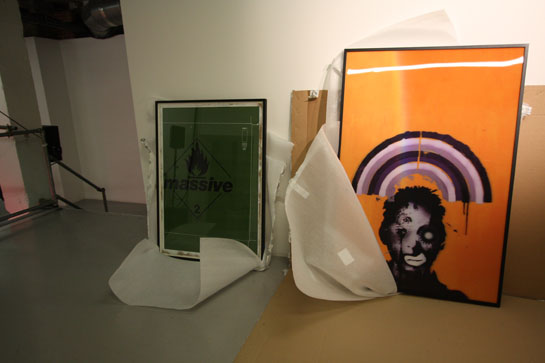 These two Massive Attack frames hold special versions of some of their most famous artworks. Two great pieces to make collectors very jealous.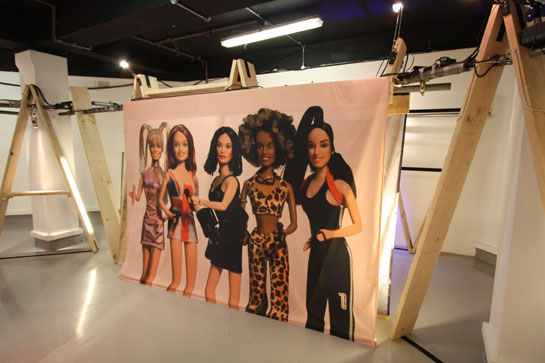 There will be pictures of the Spice Girls – and a very special item of clothing – alongside this print of the girls' plastic counterparts.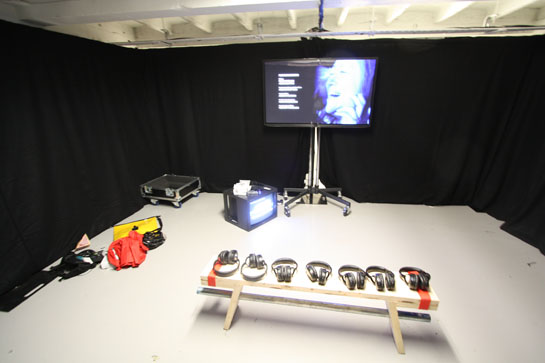 The Chemical Brothers' concert film Don't Think will be playing on a loop – get your headphones on and pull some shapes.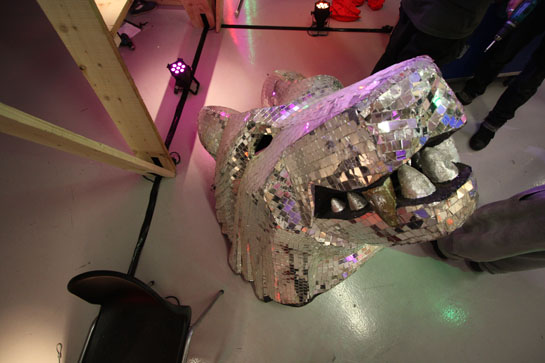 Moving toward the end of the exhibition there's artefacts from some of the label's recent dance acts. Swedish House Mafia Fans might recognise the mirrored wolf.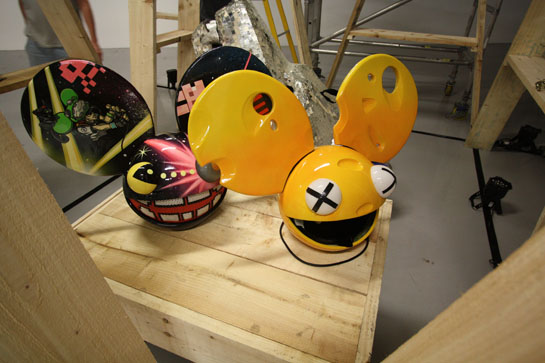 Deadmau5 fans are bound to recognise these.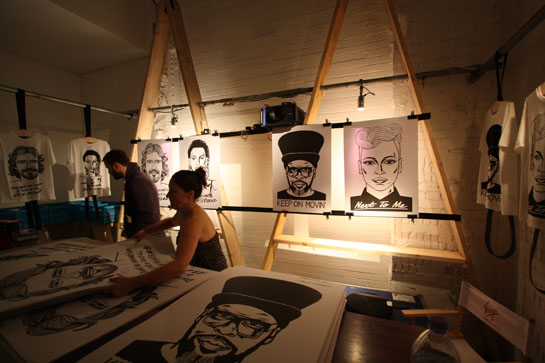 And, of course, you can stop by the shop on the way out to get your hands on some Virgin releases and the limited edition prints and t-shirts by Ted Draws.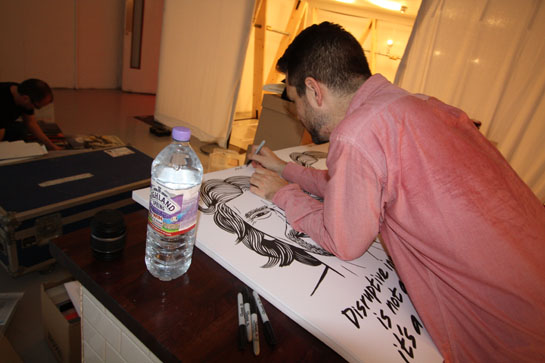 Head over to the Virgin 40 website to find out more about the celebrations and see the listings for the show's panel talks and performances
Virgin Records: 40 Years of Disruptions. [The Exhibition!] runs from 24-29 October at Studio B1, Victoria House, Southampton Row, WC1.