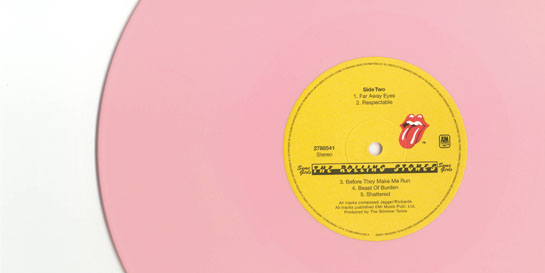 The communications team has the good fortune of being joined by Megan who's here with us doing work experience for two weeks. Megan is 17 years-old, a vinyl buyer and aspiring music journalist so we asked her, "Why do you like vinyl? Do youngsters really want to buy records?" She came back to us with the below:
There has always been a stereotype of vinyl buyers being middle-aged men, browsing through dusty boxes in crammed, tiny shops. Many people believe vinyl is dead, and that digital sales are the future. An overwhelming number of young people use services such as Spotify or iTunes as their main source of music, preferring this simple, quick and at times impersonal approach to music rather than buying physical copies. A friend once said to me that they "didn't see the point in buying a physical copy when they could download it". Worse still, people claim to love bands yet are happy to steal their music from the internet as opposed to buying their albums and singles and don't see it as theft. But with the decrease in sales and changing consumption, has come the rise in vinyl sales. There has been a huge increase in vinyl sales –up 55% last year. Digital sales are continuing to grow and more and more people are turning back to the physical format.
Record Store Day is a good example of the rising trend. This yearly celebration takes place in April, and features both new and old releases re-pressed in limited editions. Figures post-RSD show sales of singles were up 466% on the previous week and 96% on last year. Spence Hickman, the manager of the Rough Trade East store in London's Brick Lane, noted that the retailer was up 633% week on week and 340% up year on year due to the event.
Companies such as Third Man Records, set up by musician Jack White in 2010, have pioneered new, exciting and innovative vinyl, such as a triple decker record (a 12'' containing a hidden 7'' inside it), a liquid filled record, and the first ever playable etching. Their slogan – 'Your turntable's not dead' – paired with their impressive sales, demonstrates just how popular vinyl has become in recent years. White recently said "Vinyl is the only thing that's rising because I think it's the only thing that the real music lovers are attaching themselves to — because it's a tangible format that has lasted this long for a reason...There's an inherent romance to it." The Third Man website hosts an exclusive members section called The Vault in which members receive three packages a year, each containing rare, limited edition Third Man releases.
Re-releases are especially popular in this resurgence of vinyl – the frequent re- release of The Beatles' Abbey Road been crowned the top-selling vinyl LP in the US for 2011, its third year in a row. For people who want the best of both worlds, many companies offer free mp3 downloads with the vinyl version. A new vinyl only chart has also been set up to honour new releases.
Despite the stereotype of vinyl buyers, many young people have turned to vinyl. Its magical appeal goes back to a time before the modern technology which we are constantly surrounded by, and vinyl gives us a chance to escape that. The feeling of nostalgia, paired with the desire to own a physical copy of your favourite album, has lead young people out of high street shops which largely stock CDs to independent record stores in search of their favourite record – both new and old. HMV's Gennaro Castaldo recently said '[Vinyl] has an emotional appeal that goes beyond the functional, particularly when you consider the sleeve artwork and notes that come with it.'
In my opinion, vinyl sounds, looks and feels better than CDs, and, despite it being slightly more expensive, the price is definitely worth it. The emotional connection with vinyl is far superior to any feeling you may receive from the sterile, boring sound of mp3s. And remember – 'Your turntable's not dead'.
Follow Megan on Twitter - @whatmegandid_