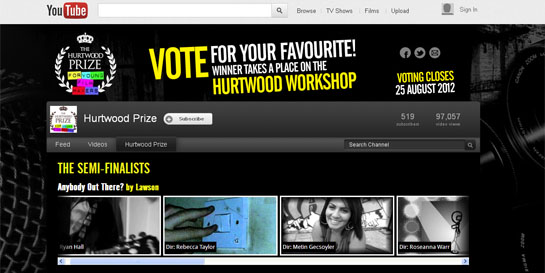 Music and videos go together like fish and chips. They're both great on their own, but infinitely better when served together. Which is good news because just as music seems to be shifting up a gear into another creative phase, videos are arguably enjoying a golden age.
Although the budgets for shoots are no where near what bands like Duran Duran were able to spend in the Eighties, there is no shortage of creative talent putting together little three minute snippets of film to accompany their mate's band and uploading it to YouTube.
Some of these budding directors have cropped up during the running of a new prize (www.youtube.com/user/hurtwoodprize) run in partnership between Polydor, Hurtwood House school, which specialises in the performing and creative arts and counts actress Emily Blunt and film score master Hans Zimmer among its alumni, the major video event BUG (www.bugvideos.co.uk) and film competition specialists MOFILM.

Four of the label's acts - The Maccabees, Lawson, Spector and Totally Enormous Extinct Dinosaurs, have provided a track apiece for budding directors (aged between 16-21 years old) to download and inspire them to create. The prize is now into its semi-final stage and you have until Saturday to vote.
David Knight, BUG founding partner and the curator of the bi-monthly and Adam Buxton-hosted shows at the BFI Southbank, has worked with leading music video directors to provide some valuable tutorials, which have been tailored for the ten finalists who make it through judging.
The finalists will be invited to a two day workshop at Hurtwood House later this year to learn more about the craft of music video and how they can negotiate a career in the industry. The outstanding candidate will then be invited to help shoot an official video for one of the four bands taking part.
Knight, whose BUG spin-off event recently played at Latitude festival and has toured Sydney, New York and Los Angeles, recognises that today's budgets might be a fraction of what they where when MTV had Michael Jackson's Thriller on heavy rotation. Expensive overseas shoots with yachts and Ferraris as everyday props might also have had their day. But, he argues that is not necessarily a bad thing. "I think the cultural significance of music videos is as great as the early days of MTV because of the prevalence of the internet," Knight adds. "Music video is still the training ground for new directors who might move into film or Hollywood. It is definitely the place where directors will cut their teeth."
And today's crop of leading video directors are certainly not short of executing stunning films or persuading top talent to appear in their films despite tighter budgets: director Daniel Wolfe managed to acquire the services of Hollywood A-lister Jake Gyllenhall on the strength of his idea for French synth outfit The Shoes (see BUG list of favourite videos below).
Emil Nava (who has made videos for artists such as Jesse J, Ed Sheeran, Rita Ora and Paloma Faith) and David Wilson (The Maccabees, Passion Pit and Metronomy) both say much of the stimuli for their ideas comes from talking with the bands themselves.
Wilson adds, "I think the director is like an artist they need to have a vision and everything hangs around that vision," explains Wilson. "You need to be clear in your mind of what you want to achieve."
Similarly, Tabitha Denholm (Florence + The Machine and Ladyhawke) says one of the most rewarding aspects of being a music video director is when "you get an idea and think 'that could really work' and nail that....especially if you think no one has done it before."
As well as ensuring the idea behind a music video needs to work harder to stand out, Knight also says that the low (or even no) budgets has spawned a new DIY culture. "Low budget has spawned a fair amount of creativity. There are a huge amount of videos done by young directors, many of them for their friend's band," he explains.
Much of this is because the tools of the trade are easier and cheaper to get hold of and don't require a full film crew to operate. "There's a huge opportunity to make good looking, well photographed, stuff using HD digital cameras and desktop editing software. They have revolutionised the area," says Knight. "Now it is possible for almost anyone to buy or rent a camera and make something that looks good. All you need is a good idea - and some music."
Also, the practice of uploading material has been embedded into a younger generation, who will play around with tools on their computers to cut their own activities with music. "My kids go horse riding and will record themselves, then come back home and use iMovie to edit their own video with music," says Knight.
The most popular music videos are also easily identified on digital platforms with instant 'critique' from viewers and Knight and others suggest music videos are now well placed to help generate increased revenues through their appearance on sites such as Vevo, which is backed by Universal and Sony. "This is the modern MTV; where kids go to see the new Katy Perry and Lady Gaga videos," he says.
Universal digital strategy manager Julia Svennerstal agrees and adds the time is now for companies to exploit the commercial opportunities that music video present on digital platforms by extending their reach to other outlets. She says that Universal currently licences content to a variety of partners, including Vevo, MTV and Muzo.TV, but research suggests there is a massive opportunity even beyond that.
"For example on YouTube last year over one trillion views were streamed. To put that in context, that is 142 videos per person living on this planet," says Svennerstal, who adds that some 40% of those videos are music ones. "Fans want to watch their favourite artists, performing and learning more about them, in any kind of context. So we think there is a massive opportunity to serve those fans and deliver them content to a whole host of different platforms that they haven't yet seen before."
BUG's Top Five Recent Video Picks
1. Grimes - Oblivion by Emily Kai Bock
2. MIA - Bad Girls by Romain Gazras
3. Die Antwoord - Baby's On Fire by Ninja and Terence Neale
4.The Shoes - Time To Dance by Daniel Wolfe
5. Keaton Henson - Small Hands by Joseph Mann