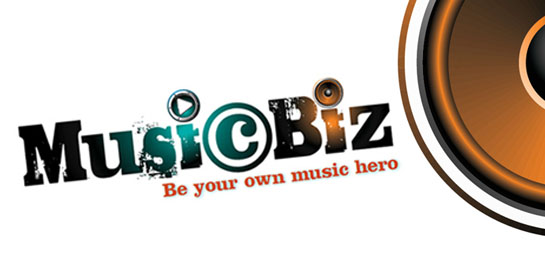 Copyright might not be as exciting as Gaga's stage costumes or as mind blowing as a live show by the Stones, but it is an important cog in the life of an artist.
With copyright underpinning their work, artists and bands earn a royalty payment each time their songs are downloaded or played on the radio or TV. Simply, without copyright very few singers or bands would have a career.
Take a look at this new competition to remind people why copyright exists and its important role within the music industry.
MusicBiz - a joint enterprise between music industry group UK Music and the Government's Intellectual Property Office - is an unique way for 14-18 year olds to get to grips with the concept and also use their artistic flair to dream up their own valuable copyrights.
The competition invites entrants to "be your own music hero" by creating a storyboard of no more than six scenes or making a film of 90-seconds or less that focusses on how songwriters, artists and bands are rewarded for their creativity - and, possibly, the consequences if they are not.
The theme or plot of the work should be as imaginative as possible as long as each story board or film contains five key words - copyright, royalty, design, performers and original - in any order.
The IPO has helpfully provided an example of the sort of ideas it and UK Music are looking for on their example storyboard which describes a world where there is "no quest for originality" and creativity is not rewarded.
This scenario, it suggests, would lead to a very dull world and the unimaginable: that David Guetta would never have progressed from DJing in his living room and that Kanye West would still be rapping to his cat.
The competition also provides a storyboard template and there is some background information on copyright on the agency's website.
UK Music's chief executive Jo Dipple says Universal Music has been at the forefront of copyright education and getting youngsters to appreciate the ideas and creativity that goes into songmaking with its backing of the long running Music Matters campaign.
She says the new competition is helping to build on what Music Matters has achieved. However, Dipple adds that even though many youngsters have an awareness of copyright it is not always fully formed and, therefore, some still choose to download illegally or share music over the internet without considering the impact of their behaviour.
Dipple says the competition is raising awareness of the consequences of filesharing and building a bridge between fans and the artists and music they love. "It is important to get young people interested in copyright and thinking about it early on," says Dipple. "We are helping to teach young people to appreciate the value of their own creativity as well as the creativity of artists they love. Raising awareness around copyright is a step toward this."
The IPO's chief executive Sean Dennehey echoes her comments. He says, "Making music takes a lot of time, effort and skill. It is only right that those putting the effort in get paid for their living."
Prizes include VIP passes to a Live Nation gig, £100 worth of music download vouchers and a once in a lifetime opportunity to spend the afternoon with singer-songwriter Newton Faulkner. The musician says copyright is important because "there must be the possibility of a career."
The closing date for the MusicBiz competition is April 19 2013.
facebook.com/musicbizbeyourownmusichero