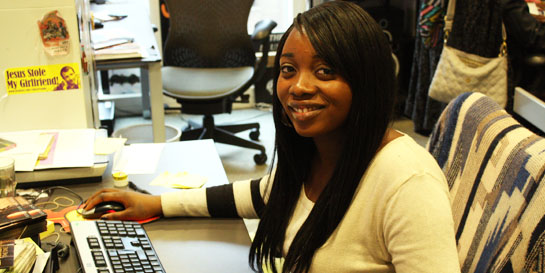 06/04/2011
Janette Quaye - Press Intern, Island

Tuesday was one of the more surreal days I've had working at Island. A BBC film crew spent most of the afternoon following me around for a Newsnight feature on internships. Not something I expected to happen when I joined the press team as an intern in January.
The BBC wanted to talk to us because Nick Clegg had made a speech asking businesses pay their interns. I'm one of about 20 interns at Universal Music and, unlike at a lot of companies, we get paid a salary and there's a properly structured scheme. At the moment I'm doing regional PR for Cocknbullkid, DJ Distance and Josh Osho.
I feel really lucky to have got the job at Island, and I couldn't have taken it if I'd had to work for free. I hope there's a job at Universal for me at the end of the year, but if not I definitely want to stay in the music industry.
Before I started here I'd done some work experience at a PR agency and at Decca. It's competitive to get on to the scheme here but if you want to work in music, it's a great place to start.
I guess my tips for applying would be:
- make sure your CV stands out
- send it to everyone (I must have sent mine out about 200 times)
- check out websites like graduate talent pool for opportunities
- if you get work experience make sure you make contact with someone in HR so you know if anything permanent comes up
- stick at it and don't give up.
You can watch Janette's interview on Newsnight HERE. The action starts 15 minutes in.
If you'd like to apply for an internship at Universal, email
This e-mail address is being protected from spambots. You need JavaScript enabled to view it
.