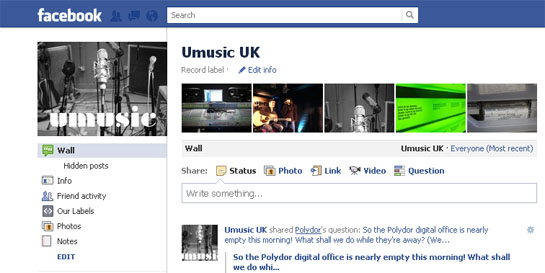 22/09/2011
Paul Smernicki - Director of Digital, Universal Music UK
As one of the 750 million active Facebook users on earth, it's easy for me to see how deeper integration of music into this universal (note – small 'u'!) experience can have very positive implications for the health of our industry and our artists.
Music has always been a social thing, since long before the word 'social' was ubiquitously preceded by the word 'media'. There is no better incentive to discover, listen to and fall in love with new artists then a recommendation or tip from a friend - one of the key challenges in a digital space where music is everywhere is recommendation and discovery.
Facebook's move will also bring us closer to the rapidly approaching cultural tipping point where access to the music we love is as understood and accepted as owning it. I look to the subscription TV business as a road sign for where we can get to with music services like Spotify, Deezer and others.
So roll on tomorrow – I for one can't wait to see exactly what Facebook are doing but of one thing I'm sure – it will mean more people listening to more of our artists – and sharing the experience with their friends.