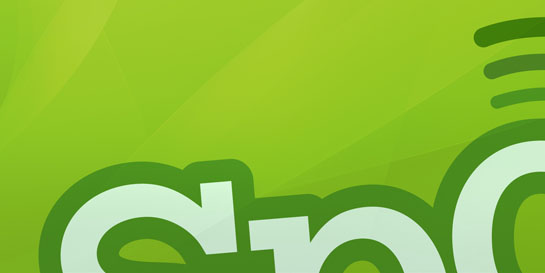 12/03/2012
Stuart Dredge (@stuartdredge)

Is Spotify and its streaming music rivals cannibalising download sales from stores like Apple's iTunes? Universal Music UK's director of digital Paul Smernicki says not.
"You can imagine that when Spotify first launched, it sent a lot of people in the music industry into panic mode – 'Let people stream stuff? Just madness!'," said Smernicki at today's Guardian Changing Media Summit, where he was speaking in a digital music panel session.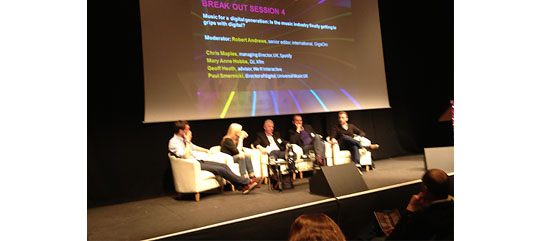 Universal has been digging into data supplied by Spotify to try to get some facts on whether streaming cannibalises sales.
"We've looked really really hard for evidence of cannibalisation, almost unobjectively. Across the business, we've been unable to find that evidence," said Smernicki.
"And in [European] markets where Spotify has launched, the growth in the digital business has been about 40%, in territories where it doesn't it's around 10%. There's a heathy ecosystem and it can be served by many of those services."
He also noted that Lana del Rey's recent album had "one of the biggest week ones for streaming in Spotify's history, but it was also one of the biggest week ones for a la carte sales".
Smernicki was joined on the panel by Mary Anne Hobbs, Dj at XFM; Geoff Heath, advisor at We R Interactive; and Chris Maples, managing director, UK at Spotify. PaidContent's Robert Andrews moderated.
Early in the panel, Smernicki was notably optimistic about the state of the music industry in 2012, and an easing off in the decline in revenues.
"We're very definitely starting to see a flattening of that decline. It's not quite tipping up the other way, but it's certainly not in terminal decline," he said.
"At Universal we are close to a 50-50 tip where digital exceeds physical revenues… In many ways legal is now better than illegal. I'm an optimist by nature, but I think we can now look at the data and the numbers, and what music fans are telling us we should do, and feel very positive."
Heath next. "It has been in decline almost since Napster took it upon themselves to try and take it apart, but recently you've seen a kind of bottoming out of the industry. And people are saying actually, we do need to pay for this… This is just beginning to come back into people's mindset now."
Hobbs talked about her view of digital, saying that it's about "the communion of the digital experience", praising platforms like Twitter and Facebook for their ability to connect a global audience around their passion for music.
"I don't think we've ever seen that before, and that's really really powerful," she said. Hobbs added that there's now a big section of the electronic music underground that operates completely independently of the traditional music industry structures.
"Now as an artist you have a choice. Even maybe five years ago those resources were not available people. I think it's a wonderful thing."
Spotify's Maples was also positive on the state of the industry, suggesting that some of the doomsayers have been proven wrong.
"The death knell of the music industry has been grossly over-exaggerated. More people are creating music, more people are listening to music than ever before," he said.
Smernicki chimed in. "I think we'll see step changes in how people take up and use different sorts of services… We live in a country that is very mature from a music perspective, but we've always also historically bought music to own, whether that's 8-track, a cassette or a bit of vinyl," he said.
He described Sweden as "a bit of a look into the future" in how Swedes see access versus ownership, thanks to Spotify's popularity there.
Maples agreed, describing Sweden as a "perfect storm of a young, tech-savvy very heavy music-listening population that meant that piracy was at its absolute height. Spotify launching in Sweden was almost the answer to a problem that needed solving… Now over a third of people in Sweden have a Spotify account."
Is Sweden a template for what a streaming-heavy market might become, and will the UK follow that pattern?
"It's a question of timing more than anything," said Maples. "The UK market is a much more mature market than Sweden was, so there are different parameters in play here."
It's a big leap for artists though, with the likes of Coldplay and Adele withholding some of their latest albums from streaming services with concerns about the payouts they are getting from their labels as a result of streaming. How can startups equitably share the revenues coming in with rightsholders and artists?
Heath said "You've got to start with a blank piece of paper and say 'these are the precedents and this is what we're trying to achieve'… It's a new business model, we're doing it largely for the first time ever. So the only thing you can do is sit down with the rightsholders and say 'this is our business, these are our margins, and this is what's available' and figure out a fair division."
Smernicki defended Spotify. "What I often read is 'Spotify don't pay good rates' [to artists]. Spotify pay the rightsholders and they pay the artist the royalty… There's also sometimes an assumption that when it comes to doing deals with artists, the labels hold all the strings and all the power. I don't think that's the case."
He noted that it is still a competitive marketplace to sign artists, so the latter aren't being screwed out of money from new services as is often assumed.
"There is not a lack of transparency but a lack of understanding for services like Spotify… What we could do better is have a slightly better royalties system from a mechanical point of view. Most of our royalties systems were built to process unit sales. At Universal we're working hard to make some changes on that."
Heath pointed out that "technology has far overhauled existing contracts… I can recall looking at some artist contracts where the label didn't even have digital rights! And there were all sorts of antics going on then… There's an entire ton of recording contracts that are either not relevant, or have to be completely rewritten."
Smernicki was asked about whether labels' licensing policies are holding back innovation, and whether the likes of Grooveshark could take the industry forward rather than being seen as villains.
"Universal Music Group International have, I believe, only ever said no once to a licence, and that was a model that was unsustainable," he said.
"We want to bring the right servcies to market as much as possible. When you talk about services like Grooveshark and others, that makes it really challenging and unfair for licensed services… What we want to ideally do is be as close as possible to potential new startups and services so we can help in creating what is ultimately a great offering."
The topic of social sharing cropped up, inevitably. Hobbs talked about a "holy trinity" that happens when she broadcasts a piece of music, while talking about it on Twitter, and then her listeners chat about it with the artist chipping in too.
"We've started to notice how powerful that moment – I guess it's a communion – between an artist, the broadcaster and the listeners… Maybe five or ten years ago you couldn't find those kindred spirits as easily, and couldn't really atomise that power. It's fascinating and it's new."
She also talked about her late DJ colleague John Peel – the definition of a trusted new-music curator in the days before Facebook, Twitter and digital music. "It would be amazing to see how John would have coped with the digital age. We bought him his first iPod but I think he died before he got to use it."
She also talked about the challenge of music discovery: sorting through the mass of new music in order to find the pearls – something Peel used to do by literally pulling out vinyl records from a pile of stuff he'd been sent.
"Now for me the research is almost neverending. There is never a moment I can say I've finished and go to sleep," said Hobbs.
She also talked about how artists are using Twitter as a hub now to direct fans towards other sites – wherever they're hosting their music or being active. Myspace cropped up at this point.
"I miss Myspace in a way, and I think how could that fail? I'm still to this day uncertain how that whole thing fell apart," said Hobbs, referring to its former status as the key online hub for artists.
Maples said Myspace was a good example of "no matter how good your service… if you don't provide the best service you possibly can all the time is they can switch off like that." He clicked his fingers at this point, naturally.
Onto Spotify's apps platform and its integration with Facebook. Maples said that it would be "enormously arrogant" for Spotify to assume it can do everything, rather than building a platform for external developers to make apps that bring new forms of discovery to digital music.
Meanwhile, Smernicki said that Spotify can share the growing streaming pie with rivals, rather than become an iTunes-sized 900lb gorilla in its own right (our words, not his).
"Streaming and access services can co-exist. Markets are becoming much more fragmented. And what might be a fantastic element of Spotify for one user might not be for another, who might prefer Mog for example. We would certainly encourage other services to market."
This post first appeared on Music Ally.