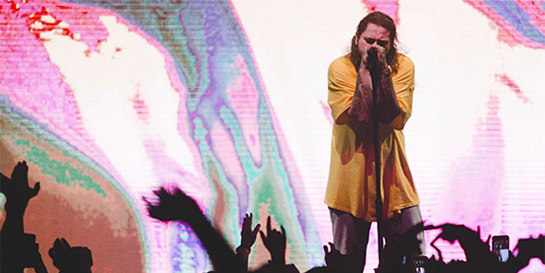 Island prepared for today's release of Post Malone's highly anticipated third album, Hollywood's Bleeding, by joining forces with Republic to make his recent UK visit a memorable one.
Island curated an album playback at The Box for key UK media and commercial partners, as well as high profile guests including Louis Theroux. Colleagues and partners came from as far as Korea and Australia to see Posty play his album in full and chat through the songs and collaborations whilst working his way through a case of Bud Light and pack of Camels.
Island's marketing manager Ari Ewing says, "Having him in the room with everyone was undeniable, and his charm was the perfect accompaniment to what promises to be a career-defining third record. Everyone in attendance already had high expectations for the album but left the room hugely excited and energised having had the privilege to hear such a great record."
The GRAMMY award-nominated, multi-platinum artist has been steadily teasing elements from the album. After starting off with a post about his North American tour dates, he followed with the album cover before unleashing the star-studded track listing.
With two UK platinum albums, six Top 10 singles – including UK number one Rockstar - and 35bn global streams under his belt, Post Malone is set to make his presence felt in the charts for the next year with an album which features key collaborations from among others Travis Scott and Ozzy Osbourne. Hollywood's Bleeding defies genre, sounding like nothing you've ever heard while still managing to hit you instantly.
The album comes fresh from Posty headlining Reading & Leeds Festival, where he brought a one-man show full of Rockstar entertainment before joining his co-headliners Twenty One Pilots on stage at Leeds to perform a cover of Oasis classic Don't Look Back In Anger.