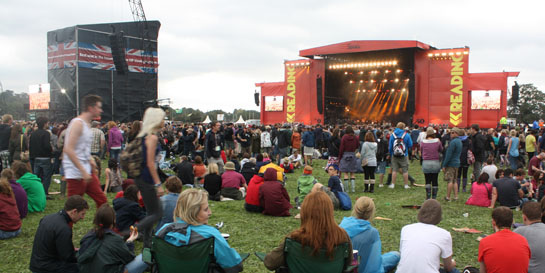 August bank holiday can mean only one thing - Reading festival. We packed our wellies and waterproofs and were amongst the thousands of fans. Here's our highlights -
Reassuring sign on the way from the train station
Fiction's Crystal Castles were the first band we caught on the Friday...
...can you spot Alice Glass amongst the crowd?
Hope no-one confused these two.
There were loads of people dressed as animals.
I mean LOADS!
Island's Bombay Bicycle Club whipped up a storm on the mainstage.
Mercury's Niki And The Dove filled the Festival Republic tent.
Fiction's Maccabees closed the Saturday on the NME/Radio 1 stage. We couldn't get anywhere near the stage.
Our Saturday began with Odd Future on the main stage.
Mercury's Jake Bugg packed out the Festival Republic stage. The busiest we've seen it ever.
Olivia attempts her best Ostrich impression.
Island's Florence + The Machine played as the sun went down. The stage looked great even from the other side of the arena.
Festival toilets have improved in the last few years.
Best seats in the house.
Mercury's Gaslight Anthem sounded great.
Island's Tribes rocked away the last night's hangover
Of Monsters And Men play a special session for BBC Three from the tree house.
The Kaiser Chiefs played a blinder. The arena was rammed and everyone knew every word.
Can you spot Ricky in the crowd?
We got very close for 2:54. They sounded fantastic.
Alan?
Island's King Charles got a great reception late on Sunday afternoon.
The Foo Fighters close the festival on Sunday night.
Thanks Reading, it was fun. Same time next year?