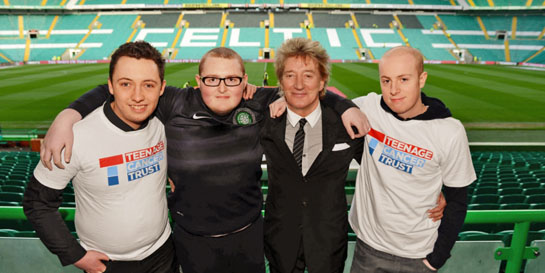 The Decca team, who last year brought you the music of The Military Wives, are again doing their bit for the Christmas charts with the release this week of Rod Stewart's Have Yourself A Merry Little Christmas.
A share of the proceeds from the single will be split between two charities near and dear to Rod's heart (please see note* below for full details): Teenage Cancer Trust is a chosen recipient of Celtic Charity Fund.
Gennaro Castaldo of music retailer HMV, comments: "Rod is going head to head with this year's X Factor finalist on 9th December and is certainly going to give them a great battle. Teenage Cancer Trust is also a wonderful charity that HMV also supports."
Rod Stewart says: "I live a blessed and wonderful life and this Christmas it means a lot to me to be able to do something that can help young people with cancer. I really admire the work done by Teenage Cancer Trust and I'm happy that Celtic Football Club's charity fund will help raise money for such a worthwhile cause"
Teenage Cancer Trust is the only UK charity dedicated to improving the quality of life and chances of survival of young people with cancer aged between 13 and 24. They fund and build specialist units within NHS hospitals that bring young people together to be treated by teenage cancer experts in a place designed just for them.
Roger Daltrey, patron of the charity, says: "I've worked with Teenage Cancer Trust for years and it's a cause I'm really passionate about - they do incredibly important work helping young people with cancer. Rod and I have a passion for football and music in common, it's great to see him involved with Teenage Cancer Trust."
Billy Connolly, patron of the Celtic Foundation, which works in close partnership with the Celtic Charity Fund, says: "Having somebody like Rod Stewart on hand to help us continue the Fund's work, in what is such a special year for the Club as a whole, is fantastic."
Celtic Chief Executive Peter Lawwell added: "Celtic has always been more than a Club, we have a unique history and one which is characterised by helping those in need. Rod has been a massive supporter of the Club and we sincerely appreciate the huge contribution which he is making to our charitable work."
Celtic are currently celebrating their 125th anniversary. Celtic Charity Fund was set up in 1995 to support charitable causes in the line with the founding principles of Celtic Football Club and aims to help communities across the world. As part of this commitment, the Fund has chosen to support Teenage Cancer Trust.
Merry Christmas, Baby - the first Christmas album of Rod's career - is a glorious collection of seasonal standards and traditional classics.
*Please note: in agreement with Decca Records, a minimum of 50p from every digital single and 40p from every physical single will be donated jointly to Celtic Charity Fund (registered charity No SC024648 (Scotland))and Teenage Cancer Trust (registered charity No 1062559 (England and Wales) and SC039757 (Scotland)) in the proportion (40:60).
Photo Caption - Rod Stewart with young cancer patients from the Teenage Cancer Trust unit at The Beatson in Glasgow: (left to right) Jamie Freel, Colin Reynolds, Rod Stewart. Mark Canning.
Buy the track on iTunes HERE and Google Play HERE.
rodstewart.com / teenagecancertrust.org / celticfc.net/charity