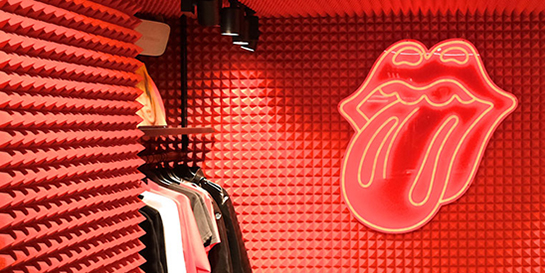 The doors are now wide open for the Rolling Stones' world-exclusive flagship store at No9 Carnaby Street, a project in partnership with Bravado, as the band's latest album Goats Head Soup heads towards the number one spot today. The exterior is unmistakable, fully adorned with the iconic tongue and lips that have come to characterise the rock and roll legends, and as you head inside, you'll be greeted by an unrivalled Stones experience for fans of all ages.
The store is located in the heart of Soho on Carnaby Street, the spiritual home of the Mods, Skinheads, Punks and New Romantics, so it seems a fitting place for a store that celebrates the legendary rock'n'roll band. Bravado have produced an eclectic mix of Stones-ified products to fill the store, from lighters to rain macs, t-shirts to glassware – you can even customise your own tee within 10 minutes, completely down to your own spec.
The music forms the core part of the experience, with a (now entirely sold out) store-exclusive limited edition run of Goats Head Soup vinyl in their very own shade 'Stones Red', which has been created especially by Pantone from the band's first logo to launch alongside the store. Even the store's window features a world first soundwave installation, taken from the opening to 1966's Paint It Black. Lyrics sprawl across glass walkways, fitting rooms are adorned with album artwork, and the new album can be heard in top-notch quality from the Bowers and Wilkins speakers that line the walls, while giant screens play archive live footage of the legendary band performing, making it a hugely worthwhile trip to make for any true fan.
The reissue of the 1973 album Goats Head Soup represents the band's 11th UK album release, and features three previously unheard tracks, plus a guest spot from Jimmy Page. Ali Tant, head of marketing at Polydor says, "It's been an incredible experience this week seeing how the team across all of Universal have come together with the launch of RS No. 9 Carnaby, The Rolling Stones' ground-breaking store on Carnaby Street, alongside the work that the team at Polydor have done with the release of Goats Head Soup 2020 in the midst of an exciting chart battle."