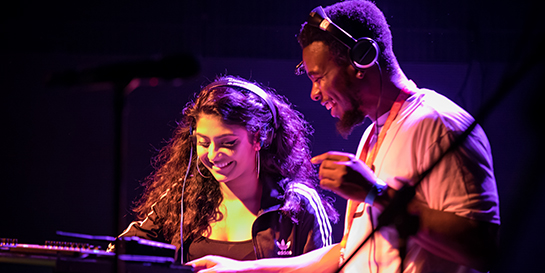 After three successful years supporting the Roundhouse's OnTrack programme, Universal Music's charity office stepped up to support 2017's six-week project, donating £17,000 in funds to develop the participants' life skills and help them find pathways into education or employment.
OnTrack is a free programme hosted at Camden's Roundhouse for 16-25s not in education, employment or training. This year it brought together 17 creative young people to write their own songs and put together a live showcase from scratch. Along the way, they had access to masterclasses, Q&A panels and careers advice from some of the team at Universal Music UK.
Michaela Greene, development and communications director at the Roundhouse says, "We really couldn't run OnTrack without the support of Universal Music, not only because they provide invaluable funding but the young people on the course really value the time and expertise from such an industry leader. Many young people have started this course with no training or education and not feeling hopeful for their future, but have gone on to achieve brilliant things – from performing to working in music venues – the course is genuinely transforming the lives of young people and feeding the industry with the next generation of talent."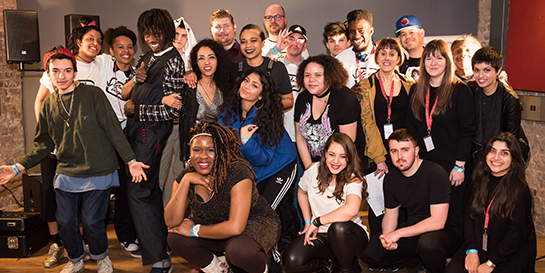 With a focus on music and enterprise, this year's six-week programme finished on March 23. Virgin EMI's director of video James Hackett, Bravado's MD David Boyne and Fiction's senior marketing manager Olivia Hobbs aided in deepening participants' understanding of the music industry.
Olivia Hobbs speaks highly of the OnTrack 2017 group saying, "I loved being a part of this because the students are so fiercely smart. They asked all the right questions, they were determined and they're proper ballsy. Love them!"
Bravado produced t-shirts which the group sold on the night of their showcase, with the proceeds going towards the costs of a studio session for the aspiring artists to record tracks from the showcase.
Janie Orr, head of Universal Music charity office says, "The Roundhouse partnership continues to be a very important to us as it allows us to use music to reach vulnerable young people and in turn help them to transform their lives."
Digital distribution and discovery platform Spinnup also kindly donated codes to allow each of the participants to upload a track without paying the fee.