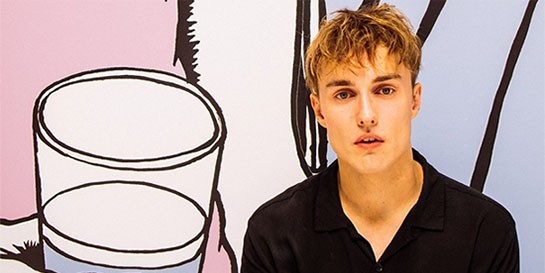 Lauded in the Guardian's 4* review as the "perfectly imperfect rock debut", Sam Fender's Hypersonic Missiles is off to a flying start.
The Brits Critics' Choice winner has quickly clocked up further 4* reviews from the Mail, The Times and the Independent with the latter declaring, "[this] astonishing debut justifies the Bruce Springsteen comparisons". It goes on to say Sam has "Springsteen's rousing holler, and the early indications of someone who could be the voice of a generation".
Polydor senior marketing manager Karen Dagg says, "It's been such an amazing experience watching Sam flourish as an artist over the last year - graduating from small venues to a totally sold-out autumn tour (including two nights at Brixton Academy), landing major TV performances around the world and crafting this incredibly special record that we are all so excited to release. Not to mention picking up a BRIT Award en route. His talent, dedication and enthusiasm are second to none and this album is just the start of the next exciting chapter."
Polydor have been busy preparing Sam for today's launch with a packed schedule of press and promo. Last week he was interviewed by The Independent, The Sun, HMV, ASOS, Q and Clash and also attended the GQ Awards before three consecutive days of radio promo. That kicked off with a flying visit to Radio 1 where Sam recorded a segment for Greg James to run ahead of his Live Lounge which comes out next Wednesday. He then headed over to Kerrang! Radio and Absolute to record a special feature and co-host an evening show before heading back over to Radio 1 for the Indie House Party with Jack Saunders.
Last Friday, Sam was back in London to perform on The One Show ahead of his weekend Soccer AM appearance before being officially announced as Vevo's Lift artist. He will be back on tour in the UK in the autumn with another run of sold-out dates including two nights at London's O2 Brixton Academy after selling 32,000 tickets in just three hours. The team are also thinking globally following Sam's highly successful trip to the US where he'll be returning next month for a series of shows in California, Texas and Colorado.