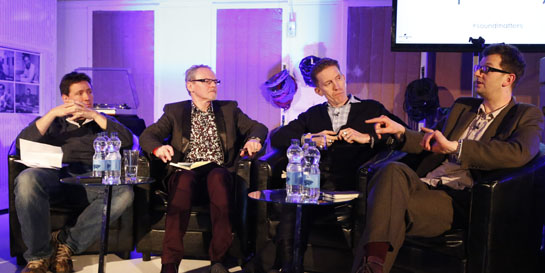 Every recording artist wants to leave the studio with a remarkable piece of work and they'll go to extraordinary lengths to ensure their music sounds exactly as they intended.
But for many fans listening to the end result, a hefty slice of audio quality has been lost in the rush for convenience.
Scroll to the bottom of the page to see the highlights from the evening or click HERE to watch the whole Open Day
Last week, in Abbey Road studios, there was a strong feeling that the tide is turning.
Universal Music's Sound Open Day – the third of our annual Open Day events - discovered that people are increasingly interested in alternatives to MP3 files - a hangover from old dial up internet days when memory and bandwidth was a huge concern.
Our host Miranda Sawyer highlighted Dave Grohl's new film, about LA's Sound City studios, which has Stevie Nicks, Tom Petty, Rick Rubin getting sentimental about an old analogue desk. Grohl makes the same point: that convenience is making us forget the joys of sound.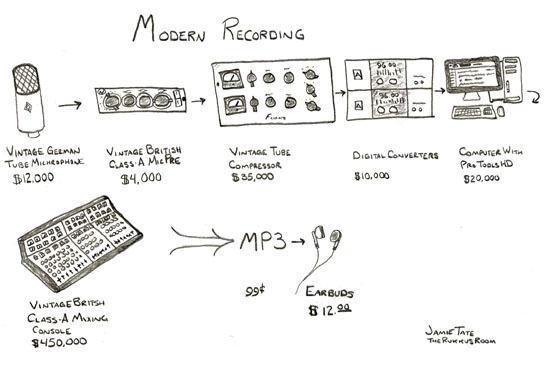 Img: Jamie Tate at The Rukkus Room
Interscope chairman and Beats headphones co-founder Jimmy Iovine spent two years listening to Tom Petty's Hear Comes My Girl - a track he produced - until he was happy with the sound coming through his game-changing new product.
DJs have demanded better quality audio on services such as Bleep, Beatport and 7digital, which all use FLAC rather than MP3. OraStream, a new digital service, is deliberately marketing itself as an HD quality streaming service.
Serious audiophile companies like Sonos and Bose are bringing out products which allow us to hear good quality sound through our TVs without needing a physics degree to hook up the equipment.
And the limitations of cheap ear buds are certainly being recognised.
Imagination/Pure director Pete Downton showed us a graph of how quickly the headphones market - boosted by top end audio brands like Beats by Dre - is growing. Last year the UK market leapt in 12 months from £150m to £181m and by 2016 it's predicted to be worth £267m (source: Futuresource Consulting).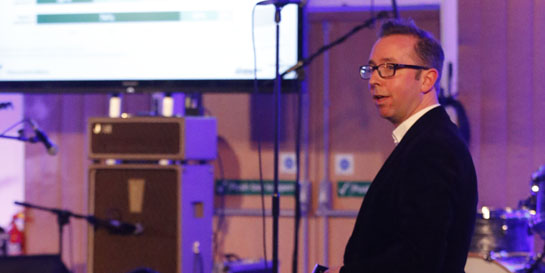 Pete Downton - Imagination/Pure
Now, this is especially good news when you consider that a mobile device (ie MP3 player, phone or tablet) is now the number one choice as "most preferred device for listening to music" (Source: Research Now, February 2013) – ahead of the traditional favourites radio, hi-fi and car stereo. Downton described this as a significant sea change. This shift is even more marked among 16-24s, with mobile way ahead at 53% with laptops in second place on 25%. Radio is back in sixth place, with just 3% of 16-24s citing is as their most important way of listening to music. So those high end headphones are pretty crucial, if only one step in the right direction towards better sound quality.

Downton pointed out an advantage of all this listening on mobiles: "You have a destination, you have a point that delivers services to these customers that never existed without the need to figure out retail and marketing strategies so I think this is a unique opportunity for the industry to work together - the technology industry and services working in concert with those delivering catalogues," he said.
Getting wide adoption for a top quality download music service - streaming ones are for the most part already pumping out MPEG 4 quality music - would be a welcome development for the music industry, the Sound panel of Bafta-winning Abbey Road senior producer and engineer Jonathan Allen, Dolby evangelist JJ, producer, songwriter and studio owner Ben Hillier and Mercury President of Music Mike Smith suggested.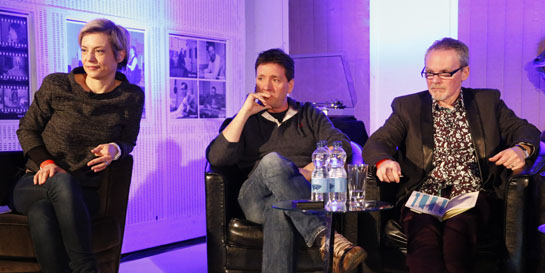 (L-R) Miranda Sawyer, Jonathan Allen, JJ
Compressed MP3 files throw out some frequencies present in the original recording. But, kind of by default, they have become the industry standard with few fans having the time or inclination to delve into the complex and confusing world of higher end MP4, WAV, FLAC, or MPEG 4 files.
Dolby's JJ suggested a big education campaign to show hi-fi quality is out there. And that might be necessary because Blur and Depeche Mode producer Ben Hillier reckoned that some youngsters have not only got used to lesser quality sound files, but they might actually prefer them. "It's a bit like people who grew up eating white sliced bread and then they are given brown artisan-baked bread. To a certain extent people have a taste for it," mooted Hillier.

Alongside that, the panel also suggested we learn a lesson from the TV industry, which now has high definition viewing almost as standard. The idea being to use and promote a higher (than MP3) quality audio file and call it something simple like HD Audio. That's an easy moniker to remember and Abbey Road's Jonathan Allen said it would remove the confusion which inevitably surrounds the technical jargon which currently accompanies higher end audio (MPEG 4, WAV, etc). Apple are already making moves in this space with their Mastered for iTunes service which allows customers to download at a quality virtually indistinguishable from 24-bit masters.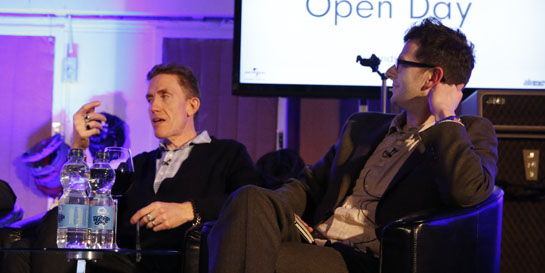 (L-R) Mike Smith, Ben Hillier
That said, Mercury's Mike Smith insisted the music industry has a responsibility to keep audio standards high even if the records are - for the time being at least – still being listened to in MP3 format through 10 quid ear buds. "The one thing I won't compromise is the money that we spend on making the record. I always feel every penny you put into making a great record is a penny you don't have to put into marketing. The best marketing tool you can have is a great record," Smith told the audience. "If I give people a low quality sound recording, that is what it is. If I create something fantastic it can be listened to on fabulous speaker systems and you can absolutely luxuriate in it."

After that we all luxuriated in the raw, uncluttered and unfettered sound of The Strypes playing live in the most famous recording studio in the world. No one had a problem hearing them.
Sound Open Day - Highlights