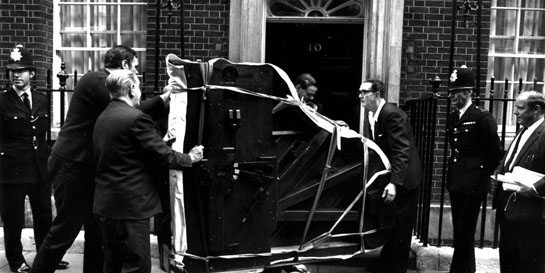 It was no surprise that Paul Weller slammed David Cameron for mistaking the message behind The Eton Rifles when the Prime Minister claimed the 1979 Jam track was his favourite song.
Taking an anti-establishment stance is a common position for many musicians from Bob Marley to the Sex Pistols because finding yourself championed by the powers-that-be is an instant credibility reducer.
Thus, the relationship between the music industry and Government has always been a tricky one. The industry doesn't want a bunch of Westminster MPs meddling in its affairs: in the past Government ministers have made ill advised comments about the role of rap lyrics in gun crime.
However, the Government can help the music industry, as its action earlier this year on the Live Music Act demonstrated. Future policies and legislation on everything from music education in schools to how music in the cloud is treated will also have an impact on record companies and the wider music business over the coming years and decades.
To this end a cross section of the music industry, including Travis frontman Fran Healy and BPI chief executive Geoff Taylor, has met with the influential cross party Culture Select Committee to explain how the relationship can develop.
Click HERE to watch the meeting
The information gathering exercise saw the Select Committee kick off with members - they include chairman John Whittingdale and former culture minister Ben Bradshaw - grilling four senior industry executives.
They asked what the big challenges were for the music industry and how Government could help. Taylor said he wanted to see "Government implement policies to allow creative businesses like ours to flourish and in particular help consumers access their entertainment safely and legally on the internet." The BPI chief added Government should also provide a strong IP framework and take "some real action" to deal with IP theft.
UK Music chief executive Jo Dipple stressed Government can help with skills and training because "raw talent" is necessary for the lifeblood of the music industry. She also said she wanted to see the "right investment framework" for music businesses and certainty in the market. "Getting the tax and access to finance environment right is critical particularly in this flat economic period," she told the committee. "We need consumer certainty and business certainty so we know what we are investing in and how to grow our businesses."
The two hour-plus discussion also focused on how long it was taking to get the Digital Economy Act 2010, which contains provisions to tackle copyright infringement, up and running.
Other topics on the agenda included how forthcoming legislation on copyright exception could impact consumers and the cloud; the global repertoire database; tax breaks for labels and other music companies; and access to finance. Dipple told the MPs, "If you are a young musician with a guitar over your back then a bank manager is probably less likely to lend you money than if you are an accountant opening a pizza franchise."
The secondary market in concert tickets, which means many fans pay over the odds to see their favourite groups was also raised by former sports minister Gerry Sutcliffe, who has done some work in this area.
Dipple told him that the Olympics had not been ruined by high ticket prices because that market was heavily protected - as is the resale of football tickets. She said, "The secondary ticket market is something we would rather didn't exist, we think it is bad for consumers, it is bad for the industry and we would work with Government to look at ways to reduce the secondary ticket market in music."
She was supported in this by artist and producer manager Stephen Budd, who represents Chase & Status collaborator Rick Nowels. Budd said he believed secondary ticketing is sucking money out of the industry.
Sutcliffe also asked Healy about the barriers new musicians face trying to enter the business. The singer/songwriter said he would like to see more funds for arts and music in education. Healy said, "When you think about funding schools, it is all about science. They look at art as a little bit of fluff, but I see art and creativity in everything in all industries. Where schools have art and music students get immense confidence and think in a different way. If the funds are not put into schools then I think it not only affects the music business, but all business."
Healy, Budd and record producer Steve Levine, who has produced hits for Culture Club, also discussed issues such as radio play for new British bands and how new acts financed themselves.
Labour MP Jim Sheridan also asked if it was still necessary for acts to sign to record companies. Healy, who explained his road to becoming a professional musician had come after being signed by a publishing company, told him it didn't matter which route artists took to start their career as long as they weren't impeded. "There are many doors into that house and I think is important all the entrances are open to everyone," he said.