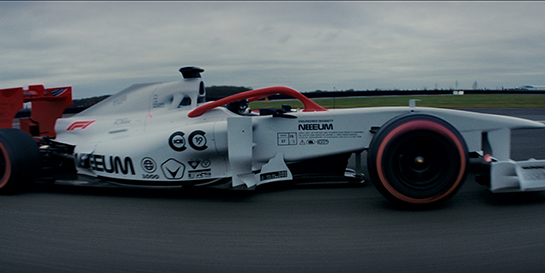 Formula 1 and The Chemical Brothers have teamed up for a unique brand collaboration, launching the fastest remix of all time to kick-start the 2019 F1 season.
Working with F1's creative agency Wieden+Kennedy, Universal Music UK's in-house creative agency Globe put forward new Chemical Brothers track We've Got To Try as the high-octane motif for F1's 2019 World Championship, which starts on March 17 in Melbourne.
Long-time F1 fans known for pushing the limits through their music, the duo have produced a 15,000 beats-per-minute remix that matches the 15,000 revs-per-minute of an F1 car as well as echoing the iconic 'neeeum' sound of one racing past.
The groundbreaking, three-second WGTT15000BPM F1 NEEEUM MIX will become the sport's sonic identity for the entire 2019 season and is available to stream from today. The original track is on The Chemical Brothers' forthcoming new album No Geography, due for release on Virgin EMI on April 12, and the duo have been involved in a promotional video directed by Ninian Doff that tells a tale of heroic canine Girl the Dog and her mission to complete the impossible, including getting behind the wheel of an F1 car and commandeering a rocket into space.
"The engineering challenge of creating the fastest remix intrigued us as F1 fans and music producers," says the duo's Tom Rowlands. "It's exciting to hear our music in the context of F1. The speed and intensity of F1 is a nice reflection of our music and live shows."
Sarah Desmond, SVP Strategic Marketing & Partnerships at Globe, comments: "We have produced an exciting and innovative project and a world first. We are proud to have helped deliver this collaboration between The Chemical Brothers and Formula 1. It is a great example of how a team effort between our sync and partnership departments can deliver excellent work."
The Chemical Brothers are continuing their collaboration with F1 as they have previously performed at multiple F1 events over the years. Ellie Norman, Director of Marketing & Communications of F1, said of the partnership: "As pioneering sound engineers, with music to match the speed and intensity of F1, there's nobody better for us to partner with than The Chemical Brothers."