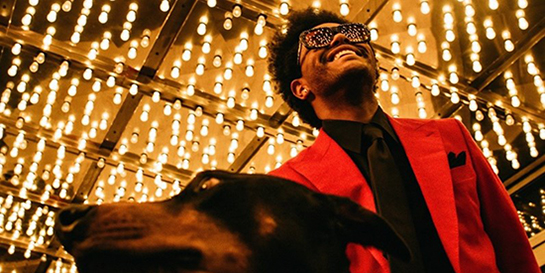 It's official - the song that has soundtracked 2020 now has an award to prove it. The Weeknd's single Blinding Lights has this week been awarded the IFPI Global Digital Single Award, which is presented to the world's best-selling single of the year across all digital formats – including single track downloads as well as streams on both paid subscription services and ad-supported platforms.
Blinding Lights was the second single from The Weeknd's highly-acclaimed fourth studio album After Hours, released via Island in March 2020. He has appeared in the Top 10 of IFPI's Global Artist Chart in four of the last five years, and landed at number four in this year's chart, marking his best performance to date. Over in the US, the track has now become the only song in history to spend a full year in the Top 10 of the Billboard Hot 100.
When the track first hit radio across the UK, it maintained a three-week stronghold on the number one spot in the airplay chart, as well as eight weeks at number one on the singles chart and 16 consecutive weeks in the Top 5. It totted up a total of 66 weeks in the charts and spent the most weeks at number one of any track in 2020.
Blinding Lights is now 4x platinum with 2,537,188 sales and 253m UK total streams. Officially the biggest single of 2020, the track has accumulated an impressive 35 weeks in the Top 10 UK Airplay Chart, and spent 65 weeks in the Top 100 UK Airplay Chart.
Island marketing manager Ari Ewig says, "Blinding Lights was the undisputed 'Song of the Year' of 2020. For the team here at Island it was extremely exciting to be a part of such a global-record breaking track. We were able to cross multiple milestones, from his first UK airplay number one in the first months of 2020 to the final months 2020 when the track was number one for an incredible eight weeks on the OCC. We offer big congratulations to our friends at Republic and XO and are proud to be part of a team delivering such exceptional results."