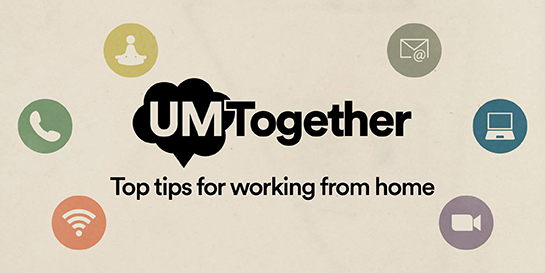 Stay connected
send fewer emails and have more facetime (see below). Whether it's a call or a video chat, less context is lost and you still feel like you're part of the team

join a daily call with your immediate team, and make use of Zoom so you can see everyone

avoid the temptation to defer meetings with external contacts – have a video call instead

create a WhatsApp group with your team to share some daily tips and positivity. First up for today, Morna's banana and pecan tray bake recipe (see attached)
Create a routine
stick to your normal daily routine as much as possible – pyjamas don't look great on Zoom

plan ahead and batch your tasks. Organise your time in the most functional and effective way

take regular breaks. Think about sprinting your time and energy, not endless slogs
Don't get bogged down in email
it might be tempting to send more emails than usual to show you're working – don't do it!

only send short emails. Make a call or set up a Zoom huddle/meeting if a few lines aren't enough

as well as keeping emails brief, don't forget the other tips eg move people to bcc, turn off notifications and don't farm emails 24/7 - only check them at set times each day
Don't forget to recharge
create time boundaries. Protect your "you" time and maintain energy for your work

more flexible working hours can be a positive but don't inflict early morning/late night or weekend emails on colleagues – save them in your drafts

text or call if it's a legitimate emergency
If you manage a team
Make a clear plan
Teams working remotely need clearer than normal goals, tasks, milestones and transparency of what other members of the team are working on. Consider introducing tasks which can take advantage of increased thinking and reading time.
Overcommunicate
Communicate at more regular intervals, swapping email for more videos and phone calls to engage everyone. Remember calls enable the most powerful tool of communication that email cannot: listening. And don't forget feedback.
Involve everyone
Make sure the entire team is engaged in daily calls and tasks. If there really isn't anything for someone to do on a particular day, let them know as early as possible so they're not left hanging around all day or, worse, feeling guilty about not working
Staying healthy - some tips from our friends at Bodyism:
Keep moving
if possible, get out of the house once a day for 45-60 minutes to get some fresh air and change your scenery. The exercise and change of mindset will help you stay focused and on task

leave your desk every hour and do something else for 10 minutes.

You probably won't have the ergonomic working set-up you have in the office so regular breaks and moving around are even more important.

Couches and beds are a disaster when it comes to working and will eventually lead to a bad back or neck issues. So if you are working from the couch, switch to a table and chair and prop your laptop on books so it's level with your eyeline.
Eat
Working from home is a great opportunity to get your nutrition on point. Stock up on fruit and veggies, whole grains and lean proteins. Plan to have three meals a day and then add in healthy snacks as you need them.
Some simple snack ideas:
apple slices with almond butter

Greek yogurt with blueberries

carrot sticks with organic humus

hard boiled eggs

avocado on a slice of rye bread
Drink
Don't overdo the coffee. Consider green tea (which has antioxidant properties and protects against cellular damage), hibiscus tea (tied to cardiovascular and numerous other health benefits), Rooibos (anti-inflammatory, improved digestive health, and obesity prevention), peppermint (enhances breathing function and reduces fatigue). Other than that water is going to be your best friend - try and drink two litres a day. If you can, then please buy a home filter to keep that water as pure as possible.
Exercise
Now you don't have the commute, this leaves more time for exercise and a wave goodbye to the excuse "I don't have the time". Adapt a home workout routine if you feel comfortable. If you don't, Bodyism have got your back. They will be sending over some home workout links later this week so you can enjoy a couple of your favourite classes at home.
Mental health
Hopefully following all the above will help counter any feelings of disconnection which can go together with working remotely.
One more thing: don't increase anxiety by constantly checking the news - only look at news updates at set times and get them from trusted sources.
Remember the NHS advice on staying healthy.
Need support for an artist?
Music Support's 24/7 Helpline number: 0800 030 6789