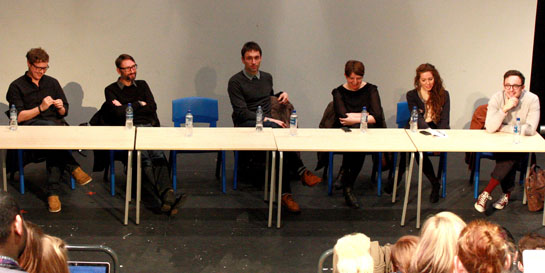 Polydor's head of digital Aaron Bogucki, along with five other Universal Music UK staff, made the trip earlier this week to the Liverpool Institute For Performing Arts for the ninth instalment of the Utalks series.
The team spoke to current students on the Institute's BA (Hons) Music and BA (Hons) Music, Theatre and Entertainment Management programmes. Aaron, who graduated from the latter in 2007, talked about how he turned his lifelong passion for music into a career, and his experience at LIPA.
"It's such an open place to go to school. It was what I wanted to do and where I wanted to be," commented Aaron, whose first job came out of a work placement.
Aaron was joined by Mercury Records managing director Clive Cawley, Universal Music UK director of digital Paul Smernicki, creative consultant Niamh Byrne, commercial partnerships creative director Maria Murtagh, and Polydor's director of A&R Ben Mortimer.
After the members of the panel introduced themselves and talked about their backgrounds, the floor was opened for questions, which covered topics such as artist development and the signing process.
The rapid growth of digital, from social media to online streaming, was also discussed. Paul explained that in the space of six years digital had grown from a backroom bolt-on activity to a core business function.
Paul said: "Online is the point of discovery for the majority of people now. Digital's not the direction we're going in; it's where we are."
The panel explained that the advent of the internet made it easier than ever for artists to get their music heard and that new acts starting out must promote themselves online.
Niamh commented: "You have got to be very proactive yourself first. And if your music is good it will stick."
From the left: Aaron Bogucki, Clive Cawley, Paul Smernicki, Niamh Byrne, Maria Murtagh and Ben Mortimer
Click HERE to read more about Utalks.